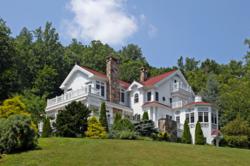 Washington Depot, CT (PRWEB) April 10, 2013
Litchfield Hills Sotheby's International Realty today announced that two of its exclusive listings have been selected by Bravo TV to appear on its newest lifestyle show, Property Envy.
Property Envy is a talk-show style series, featuring a panel of highly esteemed members of the design, architecture and real estate industries. Each episode will feature luxury properties currently on the market across the country, followed by discussion from the panel to determine which listing gives them the highest level of property envy.
The properties were brought to the attention of Bravo's production team through Rick Distel, a top-producing agent specializing in luxury properties, who contacted the network in an attempt to expose his high-end listings to a broader market. "I'm always thinking way outside the box in order to give my listings good exposure." Mr. Distel said, "When I learned about this new series on Bravo, I knew it would be a perfect fit." After securing the interest of the show's producers, Mr. Distel sent a selection of his listings for review and approval by Bravo. For the initial season, the producers selected an extraordinary property on Candlewood Lake which features a brilliantly designed residence with the largest private beach on the lake. It is currently offered at $8,950,000.
The producers were also seeking a property that was architecturally unique for its environment, so Mr. Distel suggested a striking contemporary home designed by acclaimed architect Anthony Ames, situated on 9 bucolic acres in Roxbury. This property is represented by Dennis Kyte and is currently listed at $4,400,000. The producers agreed that this property would be perfect for the initial season's roster.
Litchfield Hills Sotheby's International Realty serves the fine home market throughout Litchfield County, Connecticut with a total of 60 full-time sales associates in four offices located in Washington Depot, Lakeville, Kent and Litchfield. Affiliated with Sotheby's International Realty since 2002, the Litchfield County offices became part of William Pitt Sotheby's International Realty in 2009 as Litchfield Hills Sotheby's International Realty. Headquartered in Stamford, Connecticut, William Pitt Sotheby's International Realty is a full-service real estate firm and one of the largest Sotheby's International Realty Affiliates, with more than 1,100 sales associates in over 30 brokerages spanning Connecticut and Westchester County, New York. For more information about Litchfield Hills Sotheby's International Realty, visit the website at litchfieldhillssir.com.