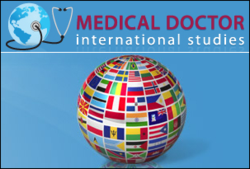 (PRWEB) April 10, 2013
Medical Doctor International Studies is pleased to announce the opening of registration for their October 2013 course in NYC to prepare students for the NYC February 2014 entrance exams. Medical Doctor International Studies also announced that consultation meetings will be held on April 11th and 12th at 4:00PM at 6th Ave. 1140 Avenue of the Americas, 9th floor, Manhattan, NYC. Students are encouraged to come and learn more about the programs and process offered by Medical Doctor International Studies.
Medical Doctor International Studies provides MCAT preparation, pre-med, medical, veterinary and clinical courses designed for international students that see the medical profession as their calling. Medical faculty from prominent universities around the world offer a broad range of medical studies in English designed specifically for international students. Admission into courses requires a high school diploma and the ability to pass written and oral entrance exams that include questions in Biology, Physiology, Chemistry, Anatomy and Physics. Students can obtain more information by registering their contact information on the medicaldoctor-studies.com website.
Medical Doctor International Studies is the brainchild of Dr. Moshe Cohen. Since its founding in 2006, the pre-med courses have prepared over 1000 students for various medical schools' medical exams, as well as for the pre-clinical years of their study program. Graduates of the pre-med course have excelled in their studies and have been accepted into many of the world's leading universities. Medical Doctor International Studies became an international company in 2008 with the creation of the first pre-med school in Sweden. Two additional pre-med programs are in the process of being established in France and Norway.
The preparatory clinical program offered by Medical Doctor International Studies is designed to provide clinical knowledge of high quality for medical students attending universities abroad. Among the many advantages of attending medical school in Europe is a reduced budget. In the US a year's worth of tuition fees and common expenses can exceed $100,000 USD, while in Europe tuition fees and expenses run between $15,000 - $25,000 USD.
The real focus of Medical Doctor International Studies is to provide solid pre-med studies that allow a student to successfully pass medical school entrance exams, and move in whatever direction they want within the medical field be it medical doctor, Dentist, or veterinarian.
Quality international faculty from medical schools in Europe, and the US, and a commitment to providing the highest pre-med and clinical training courses, set a high standard for both medical training and student success.
To learn more about the course beginning in October or for more information about Medical Doctor International Studies call Dr. Moshe Cohen at (347) 689-0168, visit the website at: http://www.medicaldoctor-studies.com/, or inquire by email at moshe_md(at)yahoo(dot)com.