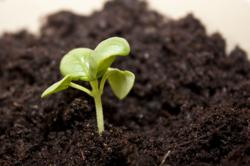 "Our products deliver the benefits of pumpkin seed oils, which are ideal for dry and sensitive skin, in combination with nourishing and indulgent ingredients like shea butter, organic aloe, healing calendula, and soothing chamomile." Sandra Klein
Half Moon Bay, CA (PRWEB) April 09, 2013
It is pumpkin planting season in Half Moon Bay and this year, and we are excited to announce that the Route One Pumpkins partnership with Tunitas Creek Family Farm is resulting in official organic certification of their pumpkins as well as a significant increase in pumpkins planted that we will be harvesting for both culinary oil and oil for personal care products this Fall.
The pumpkins that are being planted additionally for health benefits are heirloom varieties such as Cinderellas, Sugar Pies and also European heirloom varieties extensively used for health benefits in Europe: Styrians. While the family has been farming according to organic principles for years, it is the expansion of business beyond decorative Halloween pumpkins that helps justify the invesment in certification.
For most Americans, pumpkins are associated with Halloween and Fall desserts. We remember our childhood fondly, selecting the pumpkin with care from a farmers patch, carving the pumpkin and pulling the seeds from the stringy mass inside. Possibly even roasting and eating the seeds once a year. And, we remember the indulgence in pumpkin pies and cakes following a delicious family Thanksgiving or holiday dinner. What most of us don't know is how beneficial pumpkins and pumpkin seeds are for our health and how we can get those benefits all year long.
General and heart health
Pumpkin seeds are high in Omega fatty acids. In animal studies, when pumpkin seeds were added to the diet, the anti-inflammatory results were comparable to the effectiveness of the drug indomethacin—without the side-effects. And, their phytosterol compounds are believed to lower cholesterol levels. Of nuts and seeds, pumpkin seeds have the second highest amount of sterols (next to sunflower seeds and pistachios which tied for first). (1)
Benefits for sexual health
In a study cited by the New York Times, esearchers at the Chicago foundation asked men attached to a plethysmograph, a device measuring changes in volume in various parts of the body, to sniff 30 odors. All of the smells aroused them, with the combination of lavender and pumpkin pie having the greatest effect (increasing blood flow 40 percent). (2)
While researchers explain this effect as psychological, due to associations with pleasauble events, the result remains. However, because research also shows many benefits for sexual organs, specifically prostate health, perhaps there are deeper evolutionary drivers for the pumpkin preference.
A 2006 study published in "Urologia Internationalis" showed that pumpkin seeds contain compounds called phytosterols, which may be responsible for shrinking the prostate and preventing transformation of testosterone into DHT. (3) Pumpkin seeds also contain antioxidants called carotenoids; men who consume more carotenoids in their diet have a lowered risk for BPH. Finally, pumpkin seeds are rich in zinc, another important nutrient for mens' sexual health.
A Good night's sleep:
Pumpkin seeds and pumpkin seed oil is high in the sleep-enhancing amino acid tryptophan that converts to serotonin in your body and helps ensure a good night's sleep. (1) They're also high in the heart-healing mineral magnesium, which has been shown to support relaxation and also help with restless leg syndrom.
Weight-management
Pumpkin seeds offer high levels of easily-digestible protein helps stabilize blood sugar when eaten as a snack throughout the day. Stable blood sugar means weight loss if you're trying to lose.
Topical Benefits
Pumpkin seed oil is used in aromatherapy massage not only for its pleasing scent, but its skin rejuvenating qualities via high levels of essential fatty acids easily absorbed by the skin plus an assortment of vitamins and minerals, antioxidants and plant sterols, which aid in balancing cholesterol in the body. As an added bonus, pumpkin seeds also contain anti-inflammatory properties that may slow the progression of arthritis. (4)
Route One Pumpkins is currently offering Hand and Body Lotion with Cinderella Pumpkin Seed extract and Artisan Soaps made in Half Moon Bay with Sugar Pie Pumpkin Seed oils plus other nourishing vegetable and botanical oils and extracts. All fragrance-free but scented with essential oils. There are three versions currently available: Decadent Pumpkin Pie Soap, Ginger Fog Buster- Ginger is also studied for mood-lifting and aphrodisiac qualities- and Ultra-Sensitive for babies, dry and very sensitive skin. All packaged in locally produced, recycled boxes and made with solar power. Available on Etsy, RouteOnePumpkins.com and quality local retailers. Sandra Klein, CEO has been committed to both zero-waste in pumpkin use and therefore, and because we believe in the nutritional value of pumpkins, we also share recipes for humans and dog treats on our website: http://www.RouteOnePumpkins.com
1.http://www.care2.com/greenliving/10-health-benefits-of-pumpkin-seeds.html#ixzz2PtHqXI5V
2. http://www.nytimes.com/2011/07/14/fashion/skin-deep-can-a-fragrance-attract-romance.html?_r=0
3. http://health.nytimes.com/health/guides/disease/enlarged-prostate/print.html
4. Livestrong.org http://www.livestrong.com/article/242882-benefits-of-pumpkin-in-aromatherapy/#ixzz2PtF33100