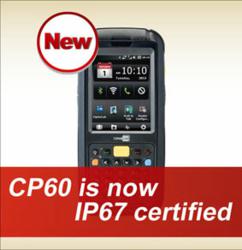 With a powerful platform and good operating system options, we have faith that CP60 with IP67 has the capability of showing better results in harsh environments.
Plano, TX (PRWEB) April 09, 2013
CipherLab, an established innovator in Automatic Identification and Data Capture (AIDC) can now say with confidence that the CP60 is now under the increased protection of IP67 ratings. The CP60 has been under the protection of IP65, but improvements are on the way. Having an excellent Ingress Protection Rating, which is internationally recognized, certifies our device to be rugged and reliable. Therefore, The CP60 has upgraded to a certified IP67 which is a very high standard. It fully eliminates any ingress of dust, has complete protection from contact and protects the device from liquid immersion up to 1m. Ultimately, the CipherLab CP60 is now a more rugged and dependable device under extended protection.
The CP60 is packed with flexible wireless communication options in 3.8G HSPA+, 802.11 a/b/g/n, and Bluetooth® V2.1 with EDR. Its embedded GPS/AGPS allows total navigational control. Moreover, CP60 is armed with a 1GHz processor and multiple operating system options in Windows® Embedded Handheld 6.5.3. It comes fully equipped with a large 4 GB flash memory and 512 MB SDRAM, which allows for extended storage of data and software. On top of all that, it provides versatile and accurate data capture with laser reader, long range laser reader, 2D imager and 5 megapixel autofocus camera. Your field agents are definitely ready to deliver a more efficient business operation.
For more details and specifications regarding CipherLab CP60 Enterprise Mobile Computer or request for demo, please send an email to NASales(at)cipherlab(dot)com or contact our office at 888-300-9779 by phone.
About CipherLab
CipherLab is a global leader in the design, manufacture, and marketing of Automatic Identification and Data Capture/Collection products and systems. The company's mobile computers and scanners are integrated into the networks of some of the world's best known logistics, retail, distribution, government installations and healthcare companies, helping them run more efficiently and effectively onsite and on the road. Operating worldwide, CipherLab is headquartered in Taipei, Taiwan with offices in China, Germany and the USA, and is publicly traded on the Taiwan stock exchange (Taiwan OTC: 6160). For more information, please visit http://www.cipherlab.com.