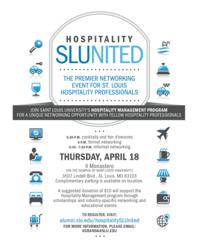 St. Louis, MO (PRWEB) April 09, 2013
The Hospitality Management program at Saint Louis University is hosting a unique networking opportunity for St. Louis-area professionals in the hospitality industry. This is a great opportunity to meet those currently working in this field as well as students, alumni and faculty of the Hospitality Management program at SLU.
Industries attending include:

Hotel Management • Gaming Management • Event Planning • Food Service Management
5:30 p.m. Cocktails and hor d'oeuvres
6:00 p.m. Formal networking
6:45 p.m. Informal networking
Event wraps up at 7:30 p.m.
The event will take place at Il Monastero on the campus of Saint Louis University:
3507 Lindell Blvd., St. Louis, MO 63103
Complimentary parking is available on location.
A suggested donation of $10 will support the Hospitality Management program through scholarships and industry-specific networking and educational events such as this.
To register, click here.
To learn more about the Hospitality Management programs at Saint Louis University, vist busyadults.slu.edu.
Event association partners include: Association of Fundraising Professionals (AFP), Event Planners Association (EPA), Hospitality Sales and Marketing Association International (HSMAI), International Medical Meeting Professionals Association (IMMPA), International Special Event Society of St. Louis (ISES), Meeting Professionals International (MPI), Missouri Restaurant Association (MRA), Professional Convention Management Association (PCMA), St. Louis Chapter, Meeting Professionals International (MPISTL), St. Louis Area Hotel Association (SLAHA), and St. Louis Institute for Association Leadership (SLIAL).