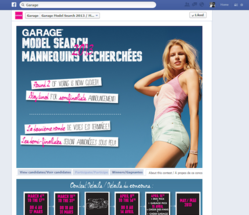 By turning on Open Graph actions with a single click, an additional 600,000 people have visited the campaign so far.
New York, NY (PRWEB) April 09, 2013
Offerpop, the most widely used social marketing platform, today announced the general availability of its enhanced Photo Contest app, which now features easy one-click activation of Facebook Open Graph actions. Customers who beta tested the app are already seeing a huge lift in virality, with 91 million News Feed impressions recorded in just two months.
Of the 871 campaigns run over a two month-period with Open Graph actions enabled, 9 people visited a campaign for every entrant who published their participation on their Timeline, and 2 people visited the campaign for every voter who published their participation.
"We used Offerpop's new Photo Contest app to power our 2013 Model Search," said Melissa Bissell, Marketing Manager at Garage, a leading Canada-based teen retailer. "By turning on Open Graph actions with a single click, an additional 600,000 people have visited the campaign so far. Open Graph was integral to the viral success of the campaign."
With Offerpop's enhanced Photo Contest app, marketers can run Open Graph actions simply by clicking a box, eliminating the need to pay for custom development or go through a separate approval process with Facebook. As a result, News Feed stories are instantly generated every time a fan submits an entry or votes, dramatically boosting virality.
Featuring a highly visual interface optimized for mobile and tablet screens, Photo Contest creates a seamless user experience for fans across devices. Additionally, the app works across all major photo-sharing networks, including Facebook, Twitter, Instagram and Pinterest.
"User-generated content campaigns are one of the most effective ways to acquire and engage fans. Facebook's Open Graph actions let marketers take these campaigns to the next level," said Mark Cooper, Offerpop co-founder and CMO." By making Open Graph actions available with a single click, and combining that with the ability to run campaigns across all major social networks and mobile devices automatically, we've built the most viral Photo Contest app out there."
Marketers interested in trying Photo Contest can run a free 14-day campaign by visiting http://www.offerpop.com.
About Offerpop
Offerpop is a super easy-to-use social marketing platform for Facebook and Twitter. Marketers across the globe use Offerpop to build active fan bases, optimize their social content, and unlock rich, actionable data that converts fans into customers. From small businesses to top brands like Etsy, Pepsi, and MTV, companies use Offerpop to drive success across their key marketing channels – engaging and converting fans like never before. Offerpop is a Facebook® Preferred Marketing Developer, qualified by the PMD program in Apps.
For more information contact: Mairead Ridge, Mairead(at)offerpop(dot)com.