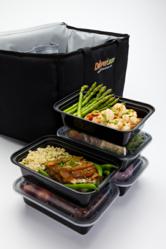 Eating well has never been simpler and more affordable with DeliverLean's 21 Day Challenge
Boca Raton, FL (PRWEB) April 08, 2013
Eating well has never been simpler and more affordable. The twist: It's not about cutting back grocery costs and eating leftovers; it's about online ordering health- and calorie-conscious meals that come to your home or office door, for just $21.00 per day.
DeliverLean, South Florida's favorite health meal delivery service, is inviting consumers to take the 21 Day Challenge: 21 days of healthy dining designed to help South Florida residents achieve a goal: be it weight loss, dietary change, lifestyle change, or a combination of any of the three. The cost: just $21.00 a day for three meals per day.
To put that in perspective, the typical on-the-go breakfast of a coffee and bagel costs approximately $3.00; a weekday lunch costs $7.00-10.00 and dinner an additional $10.00-20.00 depending on the quality of food. On average, that's close to $25.00-30.00 per day, making DeliverLean's 21-day program a smart, healthy decision.
Weight loss. Many people say that if they can get past the first three weeks of anything, they're prepared to embrace a longer-term change. That's why DeliverLean designed the program over 21 days – to help you get past that three week hurdle.
Dietary change. Bodies, metabolisms and nutritional needs change for any or us, over time. Be it as sensitive as diabetes or as simple as newly developed food allergies, DeliverLean's 21 Day Challenge allows you to design the right diet for your new and future health and wellness needs.
Lifestyle change. The desire for more energy, going vegetarian, eating at the right time vs. anytime, or becoming an educated foodie… The 21 Day Challenge comes through again for consumers with menu options, specialized dishes and informed dietary counsel to help you make the right decisions over the course of three weeks.
The 21 Day Challenge is valid only on the 3-meal-per-day, 21-day consecutive Traditional, Paleo or Gluten Free Plans at $21 per day. It is not valid on the Organic Plan. For more information or more details visit http://www.deliverlean.com/21daychallenge.
DeliverLean is South Florida's fastest-growing healthy, gourmet meal delivery service and prepares over 80,000 meals every month for health-conscious consumers in the region. DeliverLean was founded in 2011 and recently launched OnJuice, a new line of raw, organic, cold-pressed juices and cleanses.