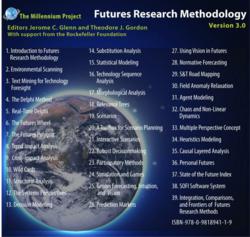 futuring about the future
(PRWEB) April 10, 2013
A Joint Workshop on Professional Foresight is being organized by the Center for Strategic and International Studies and the Foresight Education and Research Network. It will be held on Friday, April 12, 2013, 9:00am - 4:30pm, at CSIS, 1800 K St NW #400, Washington, DC.
This free daylong workshop aims to promote collaboration among students and experts in the interdisciplinary field of foresight working for think-tanks, government, academia, and business community. It will discuss the use of futures research tools such as causal modeling, scenario building, expert surveys, mapping, predictive analysis, risk assessment, and innovation management, as well as concrete applications.
The Millennium Project CEO, Jerome Glenn, will be presenting the Project's collection of Futures Research Methodologies, and José Cordeiro, Director of the Venezuela Node of The Millennium Project will present the study Latin America 2030 as an application of futures research.
The Futures Research Methodologies is the largest, most comprehensive collection of internationally peer-reviewed futures research methods ever assembled in one resource. It includes 37 methods or categories of methods, plus an introductory chapter to futures research and a concluding synthesis of methods and speculation about the future of futures research methods.
The report Latin America 2030 reviews a series of four scenarios for the future of Latin America. It provides a 20-year horizon of the issues and policy options for the region's political, economic, and social development. By the best scenario, called "Mañana is Today: Latin American Success," the region is booming under economic integration and is planning its first manned space missions. By the worst scenario, called "The Region in Flames: This report is Secret," organized crime and mafias control much of the region. In between those scenarios, many issues are considered. The report also contains a series of appendices, including long series of statistics for major development indicators, beginning with historical data from 1980 and continuing with forecasts to 2030. "Organized crime is the only serious threat to a bright future for Latin America," notes Jerome C. Glenn, CEO of The Millennium Project.
This Joint Workshop on Professional Foresight "is an opportunity to connect: 1. Early and mid-career experts in government, business and supporting organizations who are doing various types of foresight work, formally or informally, 2. Individuals in academia (researchers, students, graduates) who are being or have been formally trained in foresight work, and 3. Policy and strategy leaders in government, business and supporting organizations who are ideal users of quality foresight work," says the meeting's webpage, or, in short, "futuring about the future," as noted by José Cordeiro, Director of the Venezuela Node of The Millennium Project and leading author of the report Latin America 2030 .