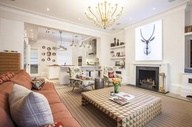 Space, comfort, and convenience during a trip help to make it memorable
London, United Kingdom (PRWEB UK) 8 April 2013
Planning a trip to London this spring?
Stop and read this before booking a place to stay.
Savvy travelers are paving the way for an emerging trend, skipping traditional hotels and opting to stay in alternative, owner-rented lodgings. At Easy Relocation, we call these properties the 'Un-Hotels'—flats and vacation homes that encourage authentic experiences and allow visitors to London to live like a local.
New places to search for alternative lodging in London and all over the world, like http://www.onefinestay.com and VRBO.com —are quickly cropping up and growing in popularity, said Rozi Bani-Ameri, London housing expert and owner of Easy Relocation.
"Not even the finest of London's hotels can offer visitors the unforgettable experience of staying in a real flat in London," Bani-Ameri said. "The flavor and authenticity vacation rentals offer by allowing visitors to be immersed in the sights, sounds and people of London is unparalleled."
To help travelers planning a spring holiday in London make the most of their experience, Easy Relocation offers five (really great) reasons travelers to London should consider booking an 'Un-Hotel' this spring.
1. Location, Location, Location
From a luxury penthouse flat perfect for a couple and just a one-minute walk from Trafalgar Square to a four-bedroom family home in Notting Hill, holiday rentals can help travelers score amazing lodging in prime areas of London! Sightsee from your window or stroll around the corner to an array of restaurants and markets in unique neighborhoods.
2. Stretch Budget
The character and amenities travelers are treated to when staying in vacation rentals in prime locations often come at great value and can be rented at a weekly price for even greater savings. And in addition to often being cheaper than hotels, many of these gems are convenient to public transportation or The Tube—saving travelers money on a rental car. Also, vacation rentals tend to be more spacious and offer more amenities than hotel rooms, such as full kitchens and washing machines.
3. Serendipity
Not only can skipping traditional hotels help save money, it more importantly makes for authentic and unexpected holiday experiences. Each flat or home has its own personality and history—so the adventure begins with lodging and continues in the surrounding neighborhood. Feel the real pulse of the city and enjoy local flavor.
"If you've ever traveled to a great city and left feeling like you barely scratched the surface…alternative housing is one of the best remedies," said Bani-Ameri at Easy Relocation (exclusive).
4. Know Before You Go
Travelers can search the internet ad infinitum to plan the perfect holiday, but the fact is there is no better source of information about London than a Londoner.
An advantage of renting a flat for holiday is that many owners will share travel advice about airports and transfers that will make for seamless travel. Also, with these rentals, travelers can view recent reviews, feedback and ratings of each property by past renters to avoid any surprises.
On the popular VRBO, for example, there are currently more than 200 flats in London for rent to vacationers—and the site allows renters to view profiles of and directly communicate with property owners.
5. Insider Tips
Another bonus of the Un-hotel is that many owners who know the city well provide guests tips about the property's surrounding neighborhoods, restaurants, shops and transportation. Imagine getting first-hand insight on which pubs have the best specials or which markets, boutiques and food not to miss.
For more information about Easy Relocation and tips on traveling or moving to London follow Easy Relocation on Twitter @EasyReloexcl and on Facebook at https://www.facebook.com/EasyRelocationExclusive.
Contact;
info@easyrelocation.co.uk
Easy Relocation (exclusive)
PO Box 66446
Maida Vale
London W9 4EJ
About Easy Relocation:
Established in May 2012, Easy Relocation (exclusive) offers affordable and comprehensive relocation assistance and home search to companies and individuals moving to the UK and moving to London. Unlike other UK estate agents, at Easy Relocation we hold no business commitments with third parties or letting agencies. This gives us flexibility to conduct personalized, attentive and wide ranging property searches tailored to each client's budget, needs and taste.