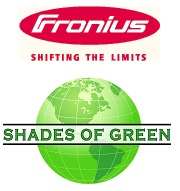 Portage, IN (PRWEB) April 09, 2013
Fronius USA announced today that they will be featured in an upcoming episode of Shades of Green.
Fronius USA, one of the world's leading manufacturers of high quality grid-connected photovoltaic inverters has been engaging in the field of solar electronics since 1992.
In this episode of Shades of Green, audiences will explore Fronius' high-performance, innovative inverter series, which includes the "Fronius IG Plus" and "Fronius CL Central Inverters." Viewers will learn how products in this inverter series transform direct current collected through solar modules into ready-to-use AC current.
"Fronius USA is excited to be a part of the remarkable educational program Shades of Green" said Thomas Enzendorfer, Director of Marketing and Sales at Fronius USA. "Our sun truly is a limitless resource; this is the perfect opportunity to show our consumers. Solar energy is a great way for homeowners, as well as businesses, to save money on their electric bills while also helping our planet earth".
Fronius transforms energy and is recognized as a technology leader in all three of its divisions; battery charging, welding technology, and high-quality solar electronic systems.
Around 95% of Fronius' products are exported through 19 international subsidiaries and sales partners/representatives in over 60 countries. With its innovative products and services and 878 active patents, Fronius is a world technology leader.
"Fronius is setting the tone for a new wave of products and technologies, designed to increase both performance and energy efficiency," said Robert Sikich, producer for the series. "This piece will serve as inspiration to a new generation of energy-conscious businesses."
About Fronius International GmbH:
Fronius has been researching and developing new technologies for converting electrical energy since 1945. That is more than six decades of experience, progress and constant innovation. Along with the Solar Electronics division, the company is also world-renowned for its battery charging systems and welding technology. Outstanding products and services such as the Fronius IG Plus inverter series and the unique Fronius Service Provider program makes Fronius the quality leader in the world market as well as a model of sustainability.
For more information, visit: http://www.fronius-usa.com or call (219) 743-5600.
About Shades of Green:
Shades of Green is an award winning eco-friendly series strictly devoted to advancements in renewable energy and sustainable living. From biodiesel to wind power, Shades of Green gets up close and personal with the people and organizations dedicated to reducing our dependence on foreign oil and creating a sustainable planet.
For more information visit: http://www.dmgproductions.org or call (866) 496-4065.
About DMG Productions:
The DMG production team consists of producers, cameramen and editors that have worked for CNN, TLC, Discovery, and other major news and cable networks. Our staff includes personnel specialized in various fields from agriculture to medicine, independent films to regional news. Our field producers utilize the core concepts from our producers who storyboard our programs, and work closely with experts in the field to develop the educational programs. This powerful force enables us to consistently produce commercial-free, educational programming that both viewers and networks depend on.
Media Contact:
Robert Sikich, Producer / Shades of Green
DMG Productions
(866) 496-4065 x 805 / robert(at)dmgproductions(dot)org