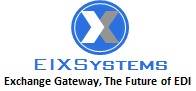 This cost-free offer gives health plans the opportunity to "skip to the future," and demonstrate that efficient accountable care via improved interoperability and collaboration can be provided now.
Austin, TX (PRWEB) April 11, 2013
Electronic Interoperable Exchange Systems, LLC ("EIX Systems"), is providing, cost-free, their HIPAA-ready "out-of-the-box" Real-Time Data Exchange and Electronic Medical Record (EMR)/CCD Systems, to small-to-midsize Medicaid or Medicare (MCO/HMO Organizations) to help them meet looming compliance deadlines and "jump-start" interoperability among Health Plans, Health Providers, HIE's, and ACO's.
Participating Health Plans can receive, at no cost, a certifiable CAQH CORE Phase I & Phase II compliant Real-time Data-Exchange System well before the deadline as specified in the Affordable Care Act (Section 1104). This turnkey deployment will save $3-4 million for health plans in development, deployment, and implementation costs, in addition to reducing future costs dramatically. According to the HHS, Health Plans must certify with the HHS by December 31, 2013 that they are in compliance with Operating Rules or risk penalties (More details available at CAQH CORE).
The selected Pilot organizations will receive, at no cost, a turnkey, fully functional innovative Service Oriented Architecture (SOA) and EDI Real-Time System that will consist of:
1. A centralized, secure, and fully-compliant real-time data-exchange system for all internal and external trading partners (Providers, Clearinghouses, IVR, HIE's etc.), supporting the following components and functionality:

Eligibility & Benefit Inquiry and Response (In Compliance with Affordable Care Act Section 1104 CAQH CORE Compliance Phase I & II Guidelines);
Claims Status Inquiry and Response (In Compliance with Affordable Care Act Section 1104 (CAQH CORE Compliance Phase I & II Guidelines);
Eliminates transaction fees from Clearinghouses for these services;
Platform is dynamic, configurable, & scalable for adding Phase III (with EFT & ERA), and all future EDI transactions;
Implementation is configurable and can be integrated with legacy systems.
[Alternatively, Health Plans can receive a Continuity of Care Document (CCD/EMR) Builder and a Centralized Payer Portal at no cost (contact for details).]
This offer is for a limited time, is cost-free, and is ready to implement by EIX's team of Healthcare IT experts, recently employed at top US Health Plans. Participation in the program guarantees dramatic benefits immediately:
Full CAQH CORE Phase I & Phase II compliance for mandated real-time transactions
Millions of dollars in annual cost savings, starting immediately
Avoidance of non-compliance penalties imposed by HHS
Seamless Integration with existing EDI workflow
Increased competitive advantage in the new era of health reform (superior interoperability services to providers, HIE's, HIO's, members, and future consumers)
Provides versatile platform for future sharing and information exchange opportunities: Phase III transactions (EFT, ERA), HIE exchange, enhanced Payer CCD's, mobile apps, etc.
Scott Buchanan, Sr. VP of EIX, said, "The reason we are making this significant investment and commitment is our complete confidence in the technology and solutions we have already built and tested in real-world Health Plans under today's compliance regulations. Our Pilot Program represents our risk-sharing commitment to our customers, as well as our interest in showcasing our unique capabilities at this critical time when the need for cutting costs in healthcare – and improving care – are so vital."
He adds, "Frankly, we have already invested $ 7-8 million in the development of Health Plan-specific infrastructure and application systems that directly target ACA requirements and the unsustainability of current systems to stay competitive. Everyone knows the technology exists today for a speedy transition to modern Payer Administration. We want to jump-start that innovation with this offer."
"Larger plans have legacy issues and are slow to transition. We offer smaller health plans an opportunity to "skip to the future", and prove that efficient accountable care via improved interoperability and collaboration can be provided now."
Please review our real-time data-exchange system and complimentary whitepaper. It describes how and why this model will enable any organization meet HIPAA deadlines head-on, maximizing ROI, providing lower costs, improving process efficiencies, and building the right foundation to easily expand capabilities and capture the tremendous opportunities these reforms will ultimately provide (improved value of data capture, quality of clinical care, mobile capabilities, wellness programs, etc.)
Please contact Scott Buchanan, Sr. Vice President of Strategic Marketing to schedule a web conference to learn more about this offer, or to discuss your needs, our expertise, and our healthcare solution capabilities.
About EIX Systems
EIX Systems is a Texas based LLC, specializing in simplifying and modernizing electronic data exchange for business-to-business transactions. EIX Systems is an innovative leader in EDI transactions and interoperability for health plans and providers, with a strong knowledge base of EDI standards, EMR/CCD, ACA/HIPAA/HITECH compliance, and comprehensive Healthcare Integrated Delivery System expertise.