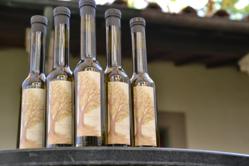 Scripps College Olive Oil is fruity, buttery, and smooth.
Claremont, CA (PRWEB) April 09, 2013
This year's Los Angeles International Extra Virgin Olive Oil Competition awarded Scripps College "Best of Show" for its entry in the domestic, delicate category. There were nine Best in Show awards, out of 640 entries from 386 producers. It was a trio of firsts for the College: first place in the competition, the first time Scripps had entered the contest and the first time Scripps had produced olive oil from its campus trees.
Scripps College harvested its olive trees last November as part of a campus-wide sustainability movement, sparked by a popular course, "The Politics and Culture of Food," taught by Professor Nancy Neiman Auerbach. The trees themselves are a much-loved fixture on the leafy campus. Once slated for permanent removal because of campus construction, the trees were saved due to student protests in the 1960s; they were temporarily removed, boxed, and replanted in their original location.
The oil, from 1,500 pounds of fruit, was processed in Ojai and resulted in 700 8-oz bottles of oil, described by the olive press owner as "fruity, buttery, and smooth." The oil was offered for sale to the Scripps community and, to date, sales have covered all production costs.