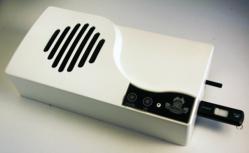 You Cant Knock it
Sparta, NJ (PRWEB) April 19, 2013
Mike Palazzi, chief engineer for Predominace LLC, has been working on a wireless button for the Tommyknocker Digital Doorbell since last year. The button works on Radio frequency or (RF) principle and is capable of transmission up to 300 feet through a home.
"It was evident that a simple solution to wiring the Tommyknocker should be offered as an alternative to hardwiring," said Palazzi. "Some customers want instant gratification and this new solution gets them up and running right out of the box."
The button kit will be sold with a Velcro style doorbell switch, 12 volt plug-in transformer and a table top stand for the Tommyknocker. The doorbell may be easily plugged into any convenient receptacle and set on a table top. The Velcro switch is taped outside the home's entrance and the doorbell is fully functional. The kit should be available to customers by July and offered as an ancillary option.
The Tommyknocker hardwiring process is not as daunting as one might expect. Instructions are easy to read and printed on the enclosed operators manual as well as the TK website. The design of the TK doorbell incorporates a 10 watt amplifier to push a 4" speaker over 80 decibels. The TK is not wireless and requires substantial power, so it must be hard wired to a 12-24 volt doorbell transformer. There are 3 convenient wiring schematics offered on the TK website which illustrate probable switch-to-transformer scenarios. Customers are encouraged to access their wiring scenarios and locate the doorbell transformer in their homes so they are prepared when the TK arrives. The doorbell can be programed to play for up to 4 separate doors in the home including front; back; side left and side right. All of the necessary hardware to mount the Tommyknocker is included with the device as well as a mounting plate and 'pigtail' to make wiring and leveling the doorbell easier. Customer support is available 24/7 with their team standing by to assist with trouble shooting and installation help.
Predominance LLC is an innovative new company dedicated to producing audio products with a twist. Our programmable audio boards are now being implemented by the US Army and are being explored for use in security and fire system applications. We are committed to building quality equipment without sacrificing the environment and offer our customers 24 hour free of charge service. http://www.tommyknockerdoorbell.net