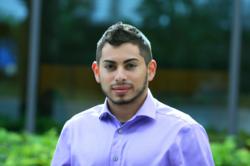 Dreamer got its name from reports of extremely wild dreams, some even described as 'trippy' from taking the all-natural supplement
Los Angeles, CA (PRWEB) April 08, 2013
Interactive Advertising expert Trent Silver, the Internet's "teenage millionaire" announces the launch of his Dreamer ClickStartMe crowdfunding campaign to bring to market a new sleep-aid with a unique by-product; extremely wild and "trippy" dreams. Digital marketing expert Silver chose popular crowdfunding site ClickStartMe to help raise $50,000 to successfully market and distribute the Dreamer product in the United States.
Dreamer got its name from reports of extremely wild dreams, some even described as "trippy." Silver notes that Dreamer is all-natural and completely safe. The product is made from 100% pure gamma-aminobutyric acid, also known as GABA. Silver also says that Dreamer does not cause the "sleep-hangover" commonly experienced in over-the-counter sleeping aids. Being all-natural, Dreamer is completely hormone free and does not contain any untested, ineffective and potentially dangerous ingredients.
Silver decided to use ClickStartMe, the site that "puts the fun in crowdfunding" to showcase and pre-sell Dreamer, and to offer other unique rewards to his project contributors. Two of the top rewards, fishing with Silver on a private yacht, or golfing 18 holes at a prestigious golf course in Florida, also come with one-on-one consulting. "I always have people asking me for digital marketing advice, so I decided to offer my time and services as a consultant as rewards on this ClickStartMe project," Silver said when asked about the concept of consulting while having fun.
Silver's goal in the creation of Dreamer is to help the 40% of Americans that suffer from various sleep disorders, and to allow everyone to experience the adventure of having "a new trip every night."
Silver notes that Dreamer is a dietary and nutritional supplement and that statements he has made about the nutritional supplement have not been evaluated by the Food and Drug Administration and that Dreamer is not intended to diagnose, treat, cure or prevent any disease.
Digital Marketing and Interactive Advertising expert Trent Silver is the Founder and CMS (Chief Mad Scientist) of Dreamer. Trent Silver is available for interviews, media appearances and speaking engagements.