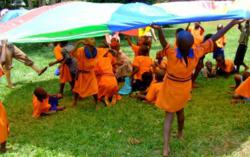 Wilderness Ventures provides boundless opportunities to build cultural connections and make lifelong memories on this teen adventure in Africa.
Jackson, Wyo. (PRWEB) April 16, 2013
Wilderness Ventures, the oldest and most experienced adventure travel program for youth announces two new international teen summer camps in Africa. The Kilimanjaro and Tanzania Service Grand Earth Adventures, the global arm of Wilderness Ventures, offer community service, cultural immersion, outdoor adventures, language, and field studies opportunities for young adults, ages 14 through 20.
On both summer camps in Africa, students will have the opportunity to learn much about wildlife discovering the "Big 5" on a classic African safari in the Serengeti. On the Kilimanjaro trip, learn about elephant biology, behavior, and the important work being done to introduce elephants to their natural environment at an elephant orphanage. Students will also work with giraffes. Feeding the world's tallest species, learn how giraffe habitat preservation contributes to the biodiversity of the local ecosystem. On the Tanzania service trip, students will stay at a snake rehabilitative park. They'll learn about snake ecology, habitat and the delicate balance between species protection and agricultural conservation.
Wilderness Ventures provides boundless opportunities to build cultural connections and make lifelong memories on this teen adventure in Africa. Participants will be welcomed into a Maasai village to take part in an ongoing service project. During the time here, groups become embedded in contemporary village life while engaging in ancient traditions. Meaningful service work will blend with cultural outreach such as teaching English language skills to local school children and working on much-needed infrastructure improvement. Of course there will be plenty of time to connect with the fabric of daily life over impromptu games of soccer and during traditional dance ceremonies.
Wilderness Ventures has always been known for connecting their participants with some of the most beautiful natural settings on earth. Not straying from their roots on their African adventure, participants will climb Mount Kilimanjaro. They will hike from base-to-summit over seven magical days, camping under a brilliant sky each night and passing through multiple ecosystems on their way to the top of the world. This will truly be one of the greatest emotional accomplishments of a teen's life, and a fitting culmination to their African adventure. On the Tanzania Service trip, students will experience exotic scuba diving on the spice island of Zanzibar. In a private course taught by expert local instructors, teens progress from the classroom to the ocean while earning our PADI Open Water Diver certifications.
For more information on Wilderness Ventures' Grand Earth Adventure programs, please contact Hailey McDonald at hailey@adventuremedianews.com or visit http://www.wildernessventures.com/teen-adventure-camp-videos/ to view their online videos.
About Wilderness Adventures:
With more than 21,000 student alumni, Wilderness Ventures has pioneered outdoor adventures for young adults and has paved the way for youth travel around the world. Their 40 years of experience, unwavering values of community, inter-personal growth, wholesome environments, safety, wilderness education, discovery, conservation, and exploration have led to their unmatched and trusted reputation. Wilderness Ventures currently holds special permits to operate their teen adventure camps in 20 National Parks and 17 designated wilderness areas with special permits.