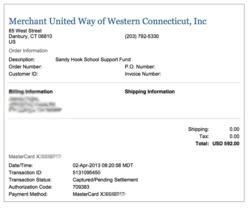 Hey, I've donated to Sandy Hook… what have YOU done?
San Diego, CA (PRWEB) April 08, 2013
Second Amendment supporters banded together to create MyGunProtectsYourfreedom.com™. This brand sells wristbands online and contributes $2.00 from each wristband sale to the Sandy Hook School Support Fund. This organization was founded to change the way people think about second amendment supporters, gun owners and firearm enthusiasts alike.
The wristbands sell for $5.00, and after the cost of the wristband, shipping, handling, and costs associated the margin for profit is nominal. Last month, mygunprotectsyourfreedom.com raised $592.00 as a direct result of launching Instagram, Facebook and Twitter campaigns.
A donation is made at the end of the month after the total number of wristband sales has been tallied up. After the donation is made, MyGunProtectsYourfreedom.com posts the screenshot of the confirmation sent by United Way of Western Connecticut, the organization that manages the Sandy Hook School Support Fund.
Many have already questioned the motives of MyGunProtectsYourFreedom.com and after seeing the first donation go out, many skeptics have chosen to support what MyGunProtectsYourFreedom.com is doing. "Why now? We are sick of hearing the media cram gun control BS and the exploitation of "gun violence" down our throats 24/7. Here's a way for Second Amendment supporters to throw the liberals a curveball...", said James H., owner of the website. "we're giving second amendment supporters a new way to raise awareness and say; hey, I've donated to Sandy Hook… what have YOU done?", added James.
In the first month of operation, the brand has gained close to 3000 followers on Instagram, notoriety on Twitter and Facebook and generated $592.00 in funds that went directly to the Sandy Hook School Support Fund. As the brand continues to develop, new products like shirts and other Second Amendment apparel will be available.
For more information on what MyGunProtectsYourFreedom.com is doing, go to their website and for the most up-to-date visit twitter.com/mgpyf or facebook.com/MyGunProtectsYourFreedom.
About MyGunProtectsYourFreedom.com
We started MyGunProtectsYourFreedom.com™ to support our Second Amendment rights while donating to a good cause in the process. We started selling Second Amendment supporter wristbands a few days ago and have already received a huge response. $2.00 from each wristband purchase goes toward the Sandy Hook School Support Fund. Where does the other $3.00 go? Shipping, handling, manufacturing, advertising and copyright protection. Why now? We are sick of hearing the media cram gun control BS and the exploitation of "gun violence" down our throats 24/7. Here's a way for Second Amendment supporters to throw the liberals a curveball... "Hey, I've donated to Sandy Hook… what have YOU done?" We tally up sales on the last day of the month, post screenshots of the total number of wristbands sold that month and donate here: https://newtown.uwwesternct.org