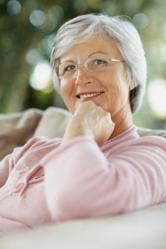 "...DENTCA is piloting a community support program to provide complimentary dentures to doctors based on patients' needs and challenges..."
Los Angeles, California (PRWEB) April 09, 2013
Every dentist knows that comfortable, high-quality dentures can make all the difference in the world for an edentulous patient. Dentures enable patients to eat, smile, and speak with confidence. Additionally, dentures help individuals improve facial muscle strength and aesthetics over time. Studies have also shown that high-quality dentures can add upwards of six years to a person's life, as well as significantly enhancing their quality of life overall. Simply put, denture-wearers look and feel younger, healthier, and more confident in their everyday lives.
Unfortunately, many patients who need dentures are often unaware of, or unable to afford this procedure -- financially, emotionally, physically, or logistically. While it is estimated that over 10,000 baby boomers are retiring each day, 77% of Americans over the age of 65 are still paying for their dental care out-of-pocket.
"DENTCA understands that many patients who need dentures face significant obstacles in life. To help create a lifestyle change for patients with such challenges, DENTCA is piloting a community support program to provide complimentary dentures to doctors based on patients' needs and challenges," says Sun Kwon, CEO. "We will be awarding 10 complete denture cases per month starting in April this year."
All doctors, charitable organizations, corporations and other managed care providers interested in providing complete dentures to a patient in need with DENTCA's CAD/CAM process are encouraged to apply. Doctors who donate their time to provide services under this program will be honored with certificates and press mentions. The program information and short application can be downloaded here.
http://www.dentca.com/download/DENTCA_Denture_Donation_Drive_Application_Form.pdf
Dentists, denturists, dental lab technicians, and others who are interested in learning about the CAD/CAM denture system and how to deliver dentures in just 2 visits can register for the next seminar here:
http://www.dentca.com/schedule.asp
The next seminar is scheduled for April 12, 6:30 PM at the Anaheim Hilton.
About DENTCA:
DENTCA, Inc. (Los Angeles, California), the pioneer of CAD/CAM Denture Technology, produces high-quality dentures through computer-aided design (CAD), computer-aided manufacturing (CAM), proprietary 3D modeling, and scalable 3D printing technology. By introducing game-changing technology to dentistry, DENTCA received the Pride Institute's Best-of-Class Technology Award in 2012 -- the first denture company in history to receive this coveted award. DENTCA's patented tray system is designed to save significant time by enabling doctors to capture the impression, VD and CR in the same patient visit in less than one hour of chair time. With extensive patent protection, client relations, and dedication to R&D, DENTCA is committed to advancing modern dentistry with this state-of-the-art, revolutionary technology for years to come.
Contact Information:
DENTCA, Inc.
3608 Griffith Avenue
Los Angeles, CA 90011
Tel: (323) 232-7505 | 855-4DENTCA | 855 433 6822
Fax: (323) 232-7504
E-mail: info(at)dentca(dot)com
URL: http://www.dentca.com
FB: http://www.facebook.com/dentcausa
Media: youngerhong(at)dentca(dot)com