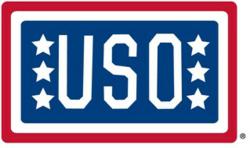 This is an amazing opportunity for us to show our love and support for the men and women who serve our country and their families. -Nick Cannon
Arlington, VA (PRWEB) April 08, 2013
Twitter Pitch: @NcredibleLife & @Power106LA team up with @the_USO for all star games and concerts for troops in Middle East and Germany
WHAT: USO All-Star basketball game and concert tour featuring Nick Cannon, Baby Bash, Big Boy, DJ E-Man, NaNa, Arlen Escarpeta, AirDogg, DJ Thirty Two, Kristinia DeBarge, 4 Count and PWD
WHEN: Spring 2013
WHERE: Middle East and Germany
WHY: As college basketball fans are studying their March Madness brackets, hoping their top picks make it to the Final Four, U.S. troops in the Middle East and Germany will be taking their game to the courts and challenging some of today's top entertainers to a friendly game of hoops. Lead by multi-faceted entertainer Nick Cannon, the USO/Armed Forces Entertainment tour will be a welcome distraction from the day-to-day activities of deployment and will help to keep troops, serving far from home, connected to home – by delivering a taste of March Madness to them.
Joining Cannon for the all-star games are Power 106 radio personalities Big Boy and DJ E-man, platinum recording artist Baby Bash, actors Arlen Escarpeta and NaNa, professional athlete and dunk specialist AirDogg as well as music mixologist DJ Thirty Two. And the fun won't stop there. Courtside entertainment will include a halftime show with performances from N'Credible - Cannon's record label - artists R&B singer Kristinia DeBarge, up-and-coming boy band 4Count and members from the newly signed hip-hop band PWD, delivering a halftime show that's sure to have something for everyone.
This trip will mark the third USO tour for DJ's Big Boy and E-man, both of who have previously traveled to Kuwait and Iraq in 2008 and 2010. In total, Big Boy and E-Man have lifted the spirits of more than 6,800 troops stationed abroad. This will be the second USO experience for Baby Bash, who visited more than 5,000 troops on his first USO tour in 2008 to Kuwait and Iraq with current tour mates Big Boy and E-Man. This will be the first USO tour for Cannon, NaNa, Escarpeta, AirDogg, DeBarge, 4Count, DJ Thirty Two and PWD.
QUOTES:
Attributed to Nick Cannon:
"This is an amazing opportunity for us to show our love and support for the men and women who serve our country and their families. It's going to be a good time for everyone and I can't wait, I'm really excited to kick-off my first USO tour. "
Attributed to Baby Bash:
"As a recording artist, performing is something that I love to do and this time I get to combine it with my love of basketball. I am looking forward to hitting the courts in the spirit of sportsmanship but what I'm most excited about is being able to tell our servicemen and women how much they are appreciated."
Attributed to DJ E-Man:
"Here in Los Angeles, we do the Power 106 All-Star Charity Basketball games with various high schools to help them with their needs. Teaming up with the USO and Nick Cannon to bring these games and concerts to our troops will be an amazing experience. It's truly an honor to go out and "bring a piece of home" to the troops and their families abroad. This will be my third USO tour with Big Boy and we are looking forward to it. We're going to give them a very memorable experience!"
Entertainment tours are one of the many ways the USO helps to lift the spirits of our troops and military families. In 2012, the USO deployed 91 celebrity entertainers on 87 tours to 24 countries and 13 states, entertaining more than 324,000 troops and military families. Fifteen of these tours were to a combat zone. To find out more about the USO and how you can help, visit us online at http://www.uso.org
About the USO
The USO lifts the spirits of America¹s troops and their families millions of times each year at hundreds of places worldwide. We provide a touch of home through centers at airports and military bases in the U.S. and abroad, top quality entertainment and innovative programs and services. We also provide critical support to those who need us most, including forward-deployed troops, military families, wounded warriors and families of the fallen. The USO is a private, non-profit organization, not a government agency. Our programs and services are made possible by the American people, support of our corporate partners and the dedication of our volunteers and staff.
In addition to individual donors and corporate sponsors, the USO is supported by President's Circle Partners: American Airlines, AT&T, Clear Channel, The Coca-Cola Company, jcpenney, Jeep, Kangaroo Express, Kroger, Lowe's, Northrop Grumman Corporation, Procter & Gamble, and TriWest Healthcare Alliance and Worldwide Strategic Partners: BAE Systems, The Boeing Company, Lockheed Martin, Microsoft Corporation and TKS Telepost Kabel-Service Kaiserslautern GmbH & Co. KG. We are also supported through the United Way and Combined Federal Campaign (CFC-11381). To join us in this patriotic mission, and to learn more about the USO, please visit uso.org.
###