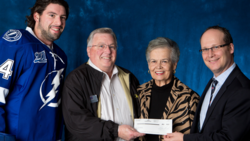 Arlington, VA (PRWEB) April 08, 2013
USO Tampa Bay Board Chair Walter Lamerton was recently honored as the 32nd Lightning Community Hero by the Tampa Bay Lightning. Community Heroes are recognized by the NHL team for making the greater Tampa Bay community a better place.
The Lightning Hero program was launched at the beginning of the 2011-2012 season by Lightning owner Jeff Vinik and his wife Penny with a goal of distributing $10 million dollars to deserving grass roots community heroes throughout the Tampa Bay community over the next five years. At each of the Lightning's 41 regular season games, the Lightning Foundation awards a $50,000 check to a non-profit charity.
Lamerton, a retired Air Force senior master sergeant from Trinity, Florida worked for almost two years to bring a USO to Tampa Bay.
"Like many others in this community, I would see all of the 300,000 military personnel going through the airport every year, but I must have just assumed there was a USO," he said.
Lamerton worked to secure funding, recruit more than 500 volunteers and formed local versions of what he calls a "blue collar" board of directors, an advisory board and committees. USO of Tampa Bay opened in September 2012 and now serves thousands of service men and women and military families monthly.
Lamerton was presented the Community Hero award during the March 26th game against the Buffalo Sabres. USO of Tampa Bay is open seven days a week from 6am until 9pm. USO Tampa Bay offers signature USO programs and services to troops and their families such as Internet connectivity, laptops, television, telephones, snacks and beverages. USO Tampa Bay also recently became a host site of United Through Reading's Military Program, which provides service men and women the opportunity to record themselves reading a story to their children or other family members and have that recording sent home to their loved ones.
Visit http://www.usotampabay.org for more information about how the USO is supporting troops and military families in the Tampa Bay area or to find volunteer opportunities.
###
About the USO
The USO lifts the spirits of America¹s troops and their families millions of times each year at hundreds of places worldwide. We provide a touch of home through centers at airports and military bases in the U.S. and abroad, top quality entertainment and innovative programs and services. We also provide critical support to those who need us most, including forward-deployed troops, military families, wounded warriors and families of the fallen. The USO is a private, non-profit organization, not a government agency. Our programs and services are made possible by the American people, support of our corporate partners and the dedication of our volunteers and staff.