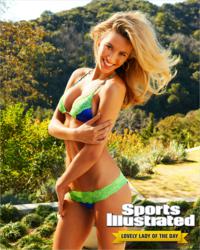 I feel we have found such a rare combination of an All-American beauty combined with an extreme business sense, a college degree and a serious drive to succeed, says Beach Bunny CEO Angela Chittenden.
Los Angeles, CA (PRWEB) April 09, 2013
With her girl-next-door sex appeal and charismatic charm, Melissa Boloña captures Beach Bunny's heart as she is named the winner of their Model Search. Melissa, who won the coveted title after being selected from a pool of over 20,000 submissions, joins the rank of other Beach Bunny Supermodels such as Sports Illustrated cover girls Kate Upton, Irina Shayk, Chrissy Teigen, Victoria's Secret Angels Rosie Huntington-Whiteley, Candice Swanepoel and Cameron Russell in addition to international sensations Kim, Kourtney and Khloe Kardashian.
This summer, Melissa teams up with Beach Bunny campaign model Irina Shayk in Belize to shoot the brand's upcoming collection with renowned photographer Yu Tsai. Along with shooting their campaign, Melissa will be amongst the swimwear elite in Miami and open Beach Bunny's runway show during Mercedes Benz Fashion Week this July. "I feel very fortunate to be working with two really outstanding individuals," says Melissa. "Irina is beautiful and I admire how strong her career is, and Yu Tsai really has an eye and a vision to create beautiful artwork. As for Beach Bunny, they have a real talent for creating what woman want! Their bathing suits are sexy, fun, and comfortable—what more can you ask for?"
This golden beauty from New York is already getting her practice and proving very well that she is not camera shy. Just last month, millions of people from around the world were captivated by Melissa's sultry gaze and blonde locks high above Times Square as she was featured in a billboard for Gents' latest campaign. She also currently graces the pages of Latin Esquire and Flaunt magazine and was the 2013 Valentine's Day Lovely Lady of the Day on Sports Illustrated's website, which was released the same week as the infamous Sports Illustrated Swimsuit issue.
In the past few months, Melissa has quickly become a social media phenomenon with her video Two Sides of Me which has reached almost 1.2 million views on YouTube and will also be making her acting debut this fall in a new TV Series, The Saint based on the original hit 60′s television show that starred Roger Moore. Not just a pretty face, Melissa is currently a full time student and will be graduating in May with a bachelor's degree in International Marketing from Pace University and ready to take on the world. "My biggest dream is to become successful on my own two feet and to help people in need along the way. To be someone of influence for good must be a very rewarding feeling," says Melissa.
Beach Bunny CEO Angela Chittenden knew right away there was something special about Melissa. "I feel we have found such a rare combination of an All-American beauty combined with an extreme business sense, a college degree and a serious drive to succeed. With the modeling world being so competitive, I feel a woman must possess a strong and positive character in addition to beauty that will help them along the way. Melissa has all these qualities and we all know that beauty plus brains is a MUST in this industry! We can't wait to see how her career builds momentum in 2013!"
As proven by previous winners Xenia Deli and Jessica Rafalowski, Angela has a knack for spotting a future star. Xenia and Jessica were both fresh faces in the modeling business before being discovered by Beach Bunny and have since gone on to have very lucrative careers. Shortly after shooting Beach Bunny's 2012 campaign with Kate Upton, Xenia landed the cover of South Africa's Sports Illustrated Swimsuit issue and Jessica made the prestigious Maxim's Hot 100 list in addition to shooting for GQ, FHM and countless other international magazines.
With her new title and winning combination of looks and personality, it is safe to say the best is yet to come for Melissa.
ABOUT BEACH BUNNY MODEL SEARCH
Beach Bunny's Model Search was open to all aspiring models who submitted their photos on beachbunnyswimwear.com. Monthly semi-finalists were carefully selected by Beach Bunny staff and fans were given the chance to vote for their favorite on the company's website. In February 2013, the top 3 contestants were announced and Melissa stood out as the fan favorite as thousands of followers hurried back to the site to help determine the next Beach Bunny Supermodel.
Online submissions for the next Beach Bunny Swimwear Model Search will begin this summer at http://www.beachbunnyswimwear.com. For more information on Melissa, please visit http://www.melissabolona.com.