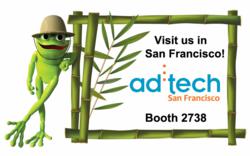 Over the past 10 years, ad:tech has proven to be our best networking event for building and maintaining relationships within the digital marketing industry
(PRWEB) April 09, 2013
Just weeks after taking on SXSW in Austin for the first time, online advertising company eZanga.com is back to exhibiting at a more targeted trade show: ad:tech San Francisco. eZanga.com has attended both the East and West Coast ad:tech conferences for the past three years.
In order to promote new products aimed at wider audiences, eZanga.com has started exhibiting at more trade shows outside of their niche of online advertising, such as South by Southwest and the New York Business Expo and Conference. But the company is continuing to maintain its presence at industry-specific trade shows such as ad:tech, Search Engine Strategies, and Affiliate Summit.
"Over the past 10 years, ad:tech has proven to be our best networking event for building and maintaining relationships within the digital marketing industry," says eZanga CEO, Rich Kahn.
eZanga.com has found the ad:tech conferences and trade shows to be extremely beneficial in several capacities. Most recently, the company launched AdPad, their new advertising platform, at ad:tech New York in November, where CEO Rich Kahn also presented a Search Marketing Masters Session.
AdPad is designed with the client's perspective in mind and updated based on user feedback. Industry events such as ad:tech are opportunities to speak to its users face-to-face about their opinions and suggestions for improving the platform.
eZanga.com will be set up at booth #2738 of the trade show, which is taking place at the Moscone Center West in San Francisco on Tuesday, April 9 from 10:00 a.m. – 6:00 p.m. and Wednesday, April 10 from 10:00 a.m. – 4:00 p.m. Attendees are invited stop by the booth to participate in an iPad mini giveaway.
About eZanga.com
eZanga.com is a search engine that specializes in multiple forms of online advertising and developed its own proprietary anti-click fraud technology. The company was founded in 2003 by Beth and Rich Kahn and is currently led by Angel Pabon, Beth Kahn, and Rich Kahn. eZanga.com has made the Inc. 5000 list five years in a row and the SmartCEO Future 50 list the past three years.
About ad:tech
ad:tech is the world's largest digital marketing conference and exhibition, with 10 shows in 7 countries. The interactive advertising and technology show includes keynote speakers, topic driven panels, and workshops. The exhibition hall also provides thousands of professionals in the digital marketing industry an opportunity to meet face-to-face. ad:tech San Francisco takes place April 9-10 at Moscone Center West in San Francisco.