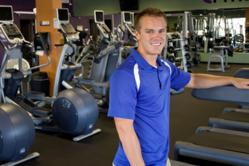 By partnering with Life Time Academy, our students will have even more options to expand their careers.
Minneapolis, MN (PRWEB) April 09, 2013
Globe University announced today an education partnership with Life Time Academy, the premier state-licensed academic division of Life Time – The Healthy Way of Life Company (NYSE:LTM). The partnership allows Globe University students to earn a Life Time Academy certification while completing their degree.
Globe University students enrolled in the school's health fitness bachelor's degree program will have the option of earning a certification from Life Time Academy as a Professional Fitness Trainer. Program classes will be taken at the St. Louis Park Life Time Fitness Facility and are equivalent to classes within the Life Time Academy certification.
"This partnership is a natural extension to the school's already robust offerings in the field of health fitness where we offer multiple degrees," said Globe's chief communications officer, Jeff Myhre. "By partnering with Life Time Academy, our students will have even more options to expand their careers."
Globe University's partnership with Life Time Fitness is the model for how the school collaborates with businesses that are on the frontlines of their industries. The partnerships lead to initiatives that allow Globe students to work on real-world business challenges. Said Myhre, "These learning-by-doing opportunities give our students valuable career experiences with companies that could eventually hire them."
Local and regional businesses are also members of Globe University's program advisory committees. Business and community leaders work with the school to help develop career programs that lead to where the jobs are, now and in the future. "Connections with local leaders foster a strong sense of community and educational relevance," summarized Myhre.
Life Time Fitness has been involved with Globe University's health fitness specialist advisory committee for several years. That collaboration ensures Globe's curriculum matches the needs of Life Time's health clubs and better program experiences for students. Following graduation, many students have been hired by Life Time Fitness.
Jeff Rosga, director of Life Time Academy, said "The educational philosophies of Life Time Academy and Globe University are inherently the same with a common dedication and commitment to career education. Our organizations have the capacity to redefine quality training and educational programs to develop the next generation of top working professionals."
Participating students study at the St. Louis Park location of the Life Time Academy—located inside a Life Time premier fitness setting—and have access to Life Time membership for lab instruction and application. Life Time Academy staff instructors who meet the Globe faculty requirements will be able to team with existing college faculty to produce an experience in student learning unparalleled in the field of exercise health and fitness sciences.
For additional information or admission requirements for Globe University visit http://www.globeuniversity.edu or call 1-877-303-6060. For more information about Life Time Academy visit http://www.ltacademy.net or call 1-888-639-0025.
ABOUT GLOBE UNIVERSITY
Globe University is part of a premier, family-managed system of career colleges, universities and training centers based in Woodbury, Minn. These specialty skills colleges prepare work-ready professionals for successful careers in a wide range of high-demand fields. Through its mission, We Care, the organization integrates hands-on and career-focused education with service- and applied-learning experiences that expose students to their communities and real-world situations. Programs offer undergraduate, diploma and graduate degrees in a wide range of career fields, including business and accounting, health sciences, legal sciences, technology, creative media and applied arts. More than 30 programs are available online. All academic programs are accredited by the Accrediting Council for Independent Colleges and Schools (ACICS). For more information, visit http://www.globeuniversity.edu.
ABOUT LIFE TIME ACADEMY
Life Time Academy, a state-licensed, career-focused educational center, is an academic division of Life Time Fitness (NYSE: LTM). The Academy enrolled its first students in April of 2011 and has continued to grow steadily; today it maintains campus locations in five geographic markets including Colorado, Minnesota, Michigan, Texas and Virginia. Life Time Academy offers a unique curriculum and a tailored learning environment that prepares fitness professionals for careers in the areas of personal training, group fitness and Pilates. The hybrid approach combines the flexibility of online learning with in-classroom, hands-on application labs held in a premier fitness setting. The combination of innovative, science-based curriculum and real-life training methodologies sets the Academy apart from traditional educational offerings or online certification programs. Graduates are certified, best-in-class fitness professionals, who are confident in their knowledge, skills and abilities to realize immediate success in their career, while inspiring their clients to achieve a healthy way of life. For more information please visit http://www.ltacademy.net or call 1-888-639-0025.
ABOUT LIFE TIME FITNESS, INC.
As The Healthy Way of Life Company, Life Time Fitness (NYSE:LTM) helps organizations, communities and individuals achieve their total health objectives, athletic aspirations and fitness goals by engaging in their areas of interest – or discovering new passions – both inside and outside of Life Time's distinctive and large sports, professional fitness, family recreation and spa destinations, most of which operate 24 hours a day, seven days a week. The Company's Healthy Way of Life approach enables customers to achieve this by providing the best programs, people and places of uncompromising quality and value. As of April 9, 2013, the company operated 105 centers under the LIFE TIME FITNESS® and LIFE TIME ATHLETIC(SM) brands in the United States and Canada. Additional information about Life Time centers, programs and services is available at lifetimefitness.com.
# # #