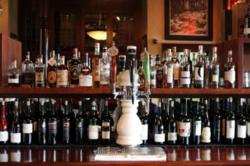 "If it's not great, we don't sell it." - Mark Steven Pope, Founder & CEO
Napa, CA (PRWEB) April 10, 2013
Catering to the top 5% of wine buyers in the United States, Bounty Hunter has added rare and limited spirits to their impressive product selection. With the award-winning catalog finding its way into mailboxes this week, Bounty Hunter Rare Wine & Provisions announces their new company name: Bounty Hunter Rare Wine & Spirits.
For the past year, the Bounty Hunter wine and spirits catalog has been expanding on an as-needed basis into new territory – and loyal customers are speaking out, "Bounty Hunter isn't just for wine anymore!!! (They have) ...the finest quality spirits you can find anywhere. I tip my hat and my glass to the fine people at the Bounty Hunter." says Tim S., a longtime Bounty Hunter fan. Bounty Hunter now carries more than 200 rare and highly sought-after spirits produced by the best world's best artisan distillers alongside an expansive selection of hard-to-find wines.
Focusing on rare and highly-coveted wine releases, Bounty Hunter Rare Wine & Spirits has become a pathway to Wine Country for connoisseurs across the U.S. and worldwide. The catalog emphasizes superlative wines from California and also includes cellar forays into France, Italy, Spain, the Southern Hemisphere and beyond. Proprietor Mark Steven Pope, "A.K.A the Bounty Hunter," and his team of Wine Scouts taste more than 5,000 wines and 1,500 spirits each year in the pursuit of "great stuff." The select few are offered to customers in the Bounty Hunter wine bar, in print and online at the newly redesigned website; http://www.BountyHunterWine.com. As Mr. Pope notes, "If it's not great, we don't sell it."
Bounty Hunter's easy to navigate website features 11 different wine clubs and now showcases the new Whiskey Runner Club featuring rare whiskies from around the world. In addition to the company's retail business, the Bounty Hunter produces more than 25 wines with renowned winemaker Tim Milos. And, when in Napa, visitors can enjoy these stellar releases and more at the Bounty Hunter Wine Bar & Smokin' BBQ, a Western-themed saloon featuring some of Northern California's best BBQ in addition to more than 400 wines from around the world.