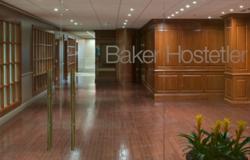 "Our substantial growth in the DC Office drove the need for even more workable, efficient space to best serve our clients' needs." - Jeff Paravano, Managing Partner for BakerHostetler's DC office
Washington, DC (PRWEB) April 09, 2013
BakerHostetler and Turner Construction Company are pleased to announce the completion of the expansion and construction of their Washington, DC office, located in Farragut Square. Celebrating their 97th anniversary, BakerHostetler's clients include a variety of businesses achieving success globally, nationally, regionally and locally. The DC office houses significant corporate, intellectual property, litigation, legislative, employment and labor, and tax practices that serve a variety of businesses, including many of the FORTUNE 25.
The project consisted of the expansion and build out of just over 20,000 SF within the 1050 Connecticut Avenue, N.W. building, where BakerHostetler has occupied space for 29 years.
"Our substantial growth in the DC Office drove the need for even more workable, efficient space to best serve our clients' needs – Turner's work was timely and the quality was outstanding. We are delighted with the outcome of this project," said Jeff Paravano, Managing Partner for BakerHostetler's DC office.
About Turner Construction Company Mid-Atlantic
Turner has received accolades as a leading builder in the Mid-Atlantic region in diverse fields of higher education, K-12, healthcare, government, interiors, bio-tech, education, commercial, hospitality, telecommunications and multi-family residential facilities. Turner's focus on service and responsiveness to client needs has led to the company's consistent growth in the region over the past 30 years.
About Turner Construction Company
Turner is a North America-based, international construction services company. Founded in 1902 in New York City, Turner has 5,200 employees worldwide and works on 1200 projects each year, for an annual construction volume of $8 billion. As the largest general builder in the United States, Turner ranks first or second in the major market segments of the building construction field, including healthcare, education, sports, commercial, and green building. The firm is a subsidiary of HOCHTIEF, a publicly traded company, and one of the world's leading international construction service providers. For more information please visit http://www.turnerconstruction.com.
About HOCHTIEF
HOCHTIEF is one of the leading international providers of construction-related services. With more than 80,000 employees and a sales volume of EUR 23.28 billion in FY 2011, the company is represented in all the world's major markets. With its core competencies in development, building and operation, the Group delivers services for the entire life cycle of infrastructure projects, real estate and facilities. The focus of the related business activities is on four strategic areas: energy infrastructure, transportation infrastructure, major cities, and resources. With its subsidiary Leighton (HOCHTIEF share around 54 percent), the Group is market leader in Australia. In the USA, the biggest construction market in the world, HOCHTIEF is the No. 1 general builder via its subsidiary Turner and, with Group company Flatiron, ranks among the most important players in the field of transportation infrastructure construction. Because of its engagement for sustainability, HOCHTIEF has been listed in the Dow Jones Sustainability Indexes since 2006. Further information is available at http://www.hochtief.com/press.