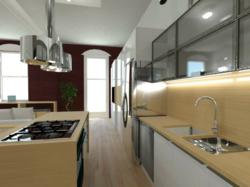 I felt like a kid on Christmas morning as the submissions came in!
Cambridge, MA (PRWEB) April 26, 2013
Many building types all around the world get adapted to new functions, mostly due to the lack of need for their original use. It is quite common to see churches transform into apartment units, museums into homes (and vice versa), or schools into marketplaces and community centers. Many of these buildings face the challenge of functional spaces that satisfy the differing uses of their new owners. Arcbazar, a Cambridge based start-up company, is the first platform that allows crowdsourcing such and similar architectural design challenges over the internet.
Jan M., home owner of an apartment unit in a converted church in Denver, Colorado, crowdsourced the problem of creating a functional, sleek and integrated living space to designers from all around the globe. Jan's challenge was to enlarge the kitchen, use consistent cabinetry throughout the living quarters, and ultimately create a modern sleek, uncluttered and clean look. "I have been plagued by a lack of storage for years, but could not envision how to improve the space myself. I knew it could be better than it is, but had no idea how much better!" says Jan.
This is exactly the reason why hundreds of home owners already launched architectural design competitions on Arcbazar. To many home owners the convenience of starting a project online is priceless. Most of the time they want to avoid the circuitous and costly trip to the architect's office; and, moreover, do not want to settle for standard solutions from local home improvement resources. "There are thousands of designers worldwide, who are willing to unlock their design potential and help home owners to solve their design problems," says Imdat As, founder of Arcbazar. On average each project receives about nine submissions. Jan got 15 design solutions and picked Andriana Mitrovic, a young and talented architectural designer from Serbia. "There is not a single design that didn't have something wonderful about it, and having to rank the designs was not easy - they are that good. I felt like a kid on Christmas morning as the submissions came in! The international community of designers/architects that participate in these competitions is top-notch. This is something that I never thought would be accessible to me as an average person!" Jan says, "My experience with Arcbazar in one word - fantastic!"
About Arcbazar
Arcbazar.com, Inc. is the first-of-its-kind online crowdsourcing platform for architectural design projects. The company connects clients with designers worldwide, and allows clients to run competitions for their remodeling, home, commercial and interior design projects. To learn more, visit http://www.arcbazar.com