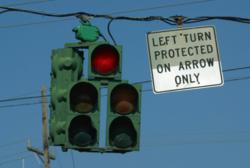 While they may be more efficient for making sure traffic keeps moving, they [permitted left turns] are obviously a danger to pedestrians.
Portland, OR (PRWEB) April 09, 2013
After examining the results of a new study, which was funded and published by the Oregon Transportation Research and Education Consortium, experts have concluded that drivers performing permitted left turns are 4 to 9% more likely to not look for pedestrians. This news has prompted to the attorneys at Shulman DuBois LLC to call for a change in traffic signals at these intersections.
"This means that we need to examine permitted left turn intersections and decide if they are the best solution for all involved," said Portland injury attorney Sean DuBois. "While they may be more efficient for making sure traffic keeps moving, they are obviously a danger to pedestrians."
According to the researchers, as reported in E!Science News,the problem is increased by the lack of consistent turn signals – each city seems to have it's own version, ranging from flashing circular green lights to flashing yellow arrows.
According to national statistics, as reported by the Federal Highway Administration, there are a much higher number of injuries to pedestrians incurred in marked crosswalks than unmarked crosswalks. According to David Hurwitz, a transportation engineering professor at the University of Oregon, this is because marked crosswalks give pedestrians "a false sense of security."
The study, which used a driving simulator rather than actual driving conditions, showed that drivers waiting to turn left at permitted turns often dart into the intersection trying to take advantage of narrow windows in traffic. These drivers, in 1 out of 20 instances (or about 5% of the time) did not even look for pedestrians before continuing.
"Even 5% is way too many times considering the probability of a pedestrian being seriously injured or killed in a collision with a car," said DuBois, who has had extensive experience with Oregon auto accident injury cases.
The "2010 Traffic Safety Facts: Pedestrians," the most recent of these reports released by the NHTSA, shows that in 2010, 4,280 pedestrians died in traffic crashes, accounting for 13% of all traffic fatalities across the nation. In Oregon, the number of pedestrian fatalities increased by almost 30% from 2011 to 2012.
"Studies like this are extremely helpful," DuBois said. "They show us the real problems (like inconsistent traffic signals) and they allow us to understand the changes that need to happen to make our roads safer." DuBois and his partner Joshua Shulman, of Shulman DuBois LLC, both support updating permitted left turn signals or making them protected left turns to protect pedestrians.
About Shulman DuBois LLC:
The Portland personal injury law firm of Shulman DuBois LLC, is based in SE Portland, OR. Partners Joshua Shulman and Sean DuBois specialize in auto accidents, including injuries from trucks, cars, and motorcycles as well as bicycle accidents, pedestrian accidents, and wrongful death cases. For a free consultation, call 503-222-4411 or contact us at http://www.portlandpersonalinjuryaccidentlawyer.com.