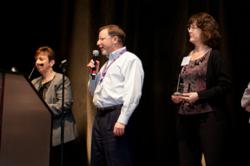 The personal growth for our employees is what makes me most proud.
(PRWEB) April 09, 2013
Dr. Wendy L. Smith and Clay Smith from E.N.T. Solutions were honored with the AHAA Growth Award at the 18th annual American Hearing Aid Associates (AHAA) Convention in Las Vegas this past February.
The husband-and-wife team received the award for demonstrating exceptional year-over-year business growth. Their strategic decision-making and prudent management style has resulted in an incredible rate of growth (surpassing 100%) year-over-year from 2011 to 2012.
The owners opened E.N.T. Solutions in 2006, and have been associated with AHAA since 2007. "The personal growth for me and our employees is what makes me most proud," said owner Clay Smith.
"Wendy and Clay have achieved their incredible success by maintaining an intelligent, forward-approach in running E.N.T. Solutions," according to Tina Soika, AHAA President. "They approach everything from a positive and energetic perspective that heavily influences their entire office in Blairsville, Georgia."
American Hearing Aid Associates (AHAA) proudly recognized their Associates' 2012 accomplishments with five honors for outstanding business performance. E.N.T. Solutions, as well as several other winners, were interviewed during the Convention to share details on their personal approaches in establishing and maintaining a successful practice, and how AHAA has helped them achieve their levels of success. Those videos can be seen on AHAAconvention.com, AHAA's Convention website.
About E.N.T. Solutions
E.N.T. Solutions is dedicated to finding solutions for patients with ear, nose, and throat ailments by providing the best care possible from their highly trained staff. Learn more by visiting them online at: http://www.entsolutions.us.com.
About American Hearing Aid Associates (AHAA)
AHAA represents the nation's highest quality and most accessible hearing health care network comprised of professional audiologists, hearing aid dispensers, otolaryngologists, hospitals, and universities across the country. AHAA aims to raise the quality of hearing health care throughout America by continual evaluation and upgrading of the educational standards and technical expertise of our hearing Associates. Learn more about AHAA at http://www.AHAAnet.com.