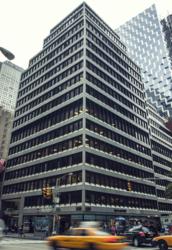 New York, New York (PRWEB) April 09, 2013
Corporate Suites Business Centers, one of the leading providers of furnished office space for rent, conference room rental and New York City virtual office services, has announced 75% occupancy at its recently opened location at 1180 Avenue of the Americas at 46th Street in the Times Square / Rockefeller Center district in Manhattan.
"The primary reason for the success at the new business center at 1180 Avenue of the Americas is the resurging economy which is driving demand for office space in Manhattan, as well as the location itself – 1180 Avenue of the Americas is truly a prime location for a variety of businesses due to its proximity to both Rockefeller Center and Times Square, and major subway and transportation hubs," noted Hayim Grant, President of Corporate Suites.
With the Dow Jones Industrial Average reaching its all-time high and employment growing steadily in New York City in the first quarter of 2013, the demand for rental office space in New York City has increased pronouncedly and is expected to continue to grow into the second and third quarters of 2013.
The Corporate Suites Business Center at 1180 Avenue of the Americas officially opened on February 1st, 2013, becoming the seventh Corporate Suites location in New York City and its newest. 1180 Avenue of the Americas features the same amenities as Corporate Suites' other locations – professionally decorated, furnished office space; a reception area with trained staff; virtual office services; views of the Manhattan skyline, and spacious conference rooms for rent in New York City's most active areas, making an ideal meeting place close to major transportation centers and subway lines.
Although it offers the same level of service and amenities as Corporate Suites' other locations, 1180 Avenue of the Americas offers many features that are unique – including a classroom for training and educational seminars that can accommodate up to 30 people and a new, sleek modern style with professionally furnished rental office space in New York's busiest district.
"Our goal is to maintain this growth and fully occupy the 1180 Avenue of the Americas location within the next few months. We still have prime offices available at 1180 Avenue of the Americas, including a corner office looking out onto Sixth Avenue, affordable interior offices for 1-2 people, and groups of contiguous window offices with fantastic views," notes Hayim Grant.
"Of course, 1180 Avenue of the Americas is only one of our seven locations. We've diversified our offerings to fit the needs of many types of businesses, with locations on Madison Avenue that are ideal for advertising firms; and our location in the Financial District at 22 Courtland Street being favored by legal and financial professionals. Our goal at all seven locations is to find the ideal office space solution for our clients by finding them the location and office that is best for their business so they can continue to serve their clients," added Grant.
About Corporate Suites: Corporate Suites is one of the largest serviced office space providers in New York City. With over a decade of experience managing hundreds of executive office suites for thousands of satisfied clients, we will provide and professionally manage the perfect office solution for your business. Find more detailed information at http://www.CorporateSuites.com.