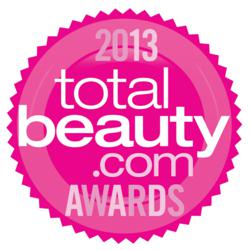 (PRWEB) April 09, 2013
Santa Monica, California, April 9, 2013 – TotalBeauty.com, the web's top destination for beauty advice and product reviews, today announces the winners of the fourth annual TotalBeauty.com Awards.
Consumers voted throughout the month of March to recognize the top products and tools across multiple categories, including hair, face, body, bath, and nails. The introduction of breakthrough products as well as innovation across beauty categories in the past year resulted in expansion of the TotalBeauty.com Awards program for 2013, with 24 new categories being awarded – bringing the total to 87 categories, up from 63 categories awarded in 2012.
To see all 2013 TotalBeauty.com Award winners, visit: http://www.totalbeauty.com/awards2013
"In a volatile economy, the beauty industry is holding strong, and that's more apparent than ever with the number of products and tools launched this past year," said Beth Mayall-Traglia, Editor-In-Chief of TotalBeauty.com. "Both consumers and beauty editors are embracing new product categories and innovative products that have emerged in recent years. Five years ago BB Creams didn't exist, and now every woman has tried one, so we gave them their own Award category this year."
TotalBeauty.com is home to the most comprehensive online database of beauty product reviews, alongside unbiased editorial content and beauty discovery ecommerce programs. The highest-rated products in the database are nominated for TotalBeauty.com Awards annually, and products with the most consumer votes are awarded with Readers' Choice seals.
TotalBeauty.com editors also recognize the best new products launched in the past year, awarding them with the Rising Star Editor's Pick seal.
Award winners this year honor mass-market brands, including Olay, Revlon and Aveeno, as well as prestige brands, including Clinique, Redken and Arbonne. Up-and-coming brands, including Broadway Nails, eSalon and Lush are also recognized.
ABOUT TOTAL BEAUTY MEDIA GROUP
Founded in 2007, Total Beauty Media Group operates TotalBeauty.com, home of the largest database of independent, unbiased beauty product reviews for women. TotalBeauty.com features hundreds of thousands of user-generated reviews, spanning more than 55,000 products, including most known prestige, mass-market, salon, and spa products. In addition, the site publishes daily editorial coverage of beauty news and trends, including TotalBeauty.com TV, an immense library of beauty how-to videos.
Total Beauty Media Group's portfolio of digital beauty, health, and lifestyle media properties include: TotalBeauty.com, BeautyRiot.com, LimeLife.com, and ModernMan.com. Total Beauty Media Group is backed by USVP and Wallington Investments and based in Santa Monica, Calif. For more information about Total Beauty Media Group, visit TotalBeautyMedia.com.
PRESS CONTACT:
Mary Dolan
mdolan(at)totalbeauty(dot)com
310.399.7400 x126