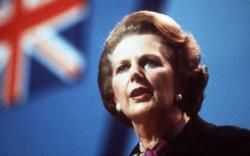 Margaret Thatcher achieved something very few politicians have ever done: She left her nation better off than she found it. In economic policy, fostering of social order, and national defense, Margaret Thatcher was continually a true champion of liberty.
Chicago, IL (PRWEB) April 08, 2013
Former British Prime Minister Margaret Thatcher – a champion of free-market economics and individual liberty – died today in London. The following statements from staffers, fellows, and policy advisors at The Heartland Institute – a free-market think tank – may be used for attribution.
For more comments, refer to the contact information below. To book a Heartland guest on your program, please contact Director of Communications Jim Lakely at jlakely(at)heartland(dot)org and 312/377-4000 or (cell) 312/731-9364.
"Margaret Thatcher showed the immense ability of government policy to do either good or harm. She transformed a socialized, backward, union-dominated British economy into a modern success story in just a few short years, through market-opening, individual-empowering policies. For this she was vilified as heartless and mean-spirited. But to those of us who really want the poor and underprivileged to have a chance to succeed, she was and remains a true heroine.
"Margaret Thatcher achieved something very few politicians have ever done: She left her nation better off than she found it. In economic policy, fostering of social order, and national defense, Margaret Thatcher was continually a true champion of liberty."
S.T. Karnick
Director of Research
The Heartland Institute
skarnick(at)heartland(dot)org
312/377-4000
"Margaret Thatcher did what others thought was impossible: She embraced free market reforms, privatized industry, and turned Great Britain from the sick man of Europe into an economic powerhouse. She unshackled British workers from the dead hand of endless regulation and in so doing brought prosperity to the people."
Ronald D. Rotunda
The Doy & Dee Henley Chair and Distinguished Professor of Jurisprudence
Chapman University
rrotunda(at)chapman(dot)edu
714/628-2698
"I met Margaret Thatcher in the late '90s. She was a gracious human being and carried with her a commanding presence. Her policies saved the United Kingdom from the crippling effects of the unions and saved the country from economic ruin.
"Her privatization of industry led the country to a boom in productivity. Because she was able to pass policies that opened up markets and human innovation, the economy revived. She is truly one of the greatest statesmen of the 20th century. We were a better world with Thatcher in it. R.I.P."
Erik Root
Chair of Economic Philosophy
West Liberty University
esroot554(at)comcast(dot)net
312/377-4000
"At a time when the world was facing a growing threat from economic collectivism, Lady Thatcher stood firmly rooted in the principles of economic liberty. Her refusal to cave in to the onslaught of union threats, and the plea for greater government spending and higher taxes, meant that Britain transitioned from a nation mired in stagflation to one that came to be admired for pragmatic free market reforms. The last of the giants of 20th century economic liberty will be missed more than the world is prepared to comprehend."
Jack A. Chambless
Economics Professor
Valencia College
jchambless(at)valenciacollege(dot)edu
312/377-4000
"Today, the world mourns the loss of one of the true champions of liberty in the second half of the 20th century. Together with President Ronald Reagan and Pope John Paul II, Baroness Margaret Thatcher's steadfast opposition to communism, and willingness to confront it wherever in the world it was found, was indispensable in bringing about the collapse of the Soviet Union and putting an end to the threat it posed to freedom-loving people everywhere. As a champion of free markets, she took on Britain's trade unions and won.
"To list her many other accomplishments as party head and prime minister would require a book to relate. She more than earned the sobriquet, 'The Iron Lady.' Her courage, her forthrightness, and her indomitable spirit will be sorely missed."
Michael G. Hintze
Wisconsin State Coordinator
Tea Party Patriots
media(at)heartland(dot)org
312/377-4000
"The passing of Margaret Thatcher reminds us that the challenges we face at this time are not so different from the challenges faced by her – in both cases, a moribund economy, a crisis in leadership, and an intellectual climate dominated by the left. In her case, she interested the working class in deregulation and privatization by enabling them to share in the potential profit, and so united the interests of the fraternity of the productive classes, both labor and capital.
"After she left office, Tony Blair, in the other party, would come to re-define the Labour agenda. Similarly in this country, after Ronald Reagan left office, Bill Clinton would come to say, 'The era of big government is over.' But, she, like Reagan, was not succeeded by like-minded persons within her party. Instead of continuing to expand the constituency for liberty, the right-of-center parties of the U.K. and the U.S. sought to co-opt the left through new and expanded entitlements. And, eventually, 'me-tooism' restored the prior progressive socialist agenda of the left.
"As significant as her contributions to the cause of liberty were, it is for we, the living, to take inspiration from her, and to continue in the perennial and honorable struggle."
Clifford Thies
Eldon R. Lindsey Chair of Free Enterprise
Professor of Economics and Finance
Shenandoah University
cthies(at)su(dot)edu
540/665-5450
"Mrs. Thatcher did a world of good for human liberty, especially in the area of political economy. Her courage and clarity of vision are badly needed anytime but were especially in short supply when she spoke up."
Tibor R. Machan
Professor Emeritus of Philosophy
Auburn University
R. C. Hoiles Endowed Chair in Business Ethics and Free Enterprise
Argyros School of Business & Economics
Chapman University
tmachan(at)gmail(dot)com
312/377-4000
"Margaret Thatcher was living proof that conservative principles, when exercised intelligently and compassionately, can salvage any government that has become addicted to the ills of socialism. When she was elected to become the first woman to lead a major Western democracy, England was regarded as Europe's sick old man. She won three successive general elections and served as British prime minister for more than eleven years (1979-90), a record unmatched in the 20th century.
"She demonstrated that strong principled leadership is the key to a nation's economic revival. There is no substitute for it. Together with Ronald Reagan, she formed a strong partnership that led to the demise of the Soviet Union. Unless the lessons of their lives are re-learned, the United States faces the same decline that they reversed for their nations."
Alan Caruba
Founder, The National Anxiety Center
Policy Advisor, The Heartland Institute
acaruba(at)aol(dot)com
312/377-4000
"Perhaps Margaret Thatcher's most famous quote is this: 'The problem with socialism is that you eventually run out of other people's money.' How prescient was this remark given what we are now seeing in various European countries? One has to wonder how the U.S. can be so blind as to continue to follow the rest of these statist lemmings as they approach their own cliff."
Paul Crovo
Energy Analyst, Policy Advisor
The Heartland Institute
tpmet342(at)gmail(dot)com
215/499-9117
"Once can't appreciate just how important a figure Margaret Thatcher was unless one knows something about the state of Britain in 1979, when she kissed hands and became prime minister. The country was so weakened, so dispirited, so hobbled by labor unions and an antiquated socialist ideology, that in every respect it resembled the United States of 2013."
F.H. Buckley
Foundation Professor of Law
George Mason University School of Law
fbuckley(at)gmu(dot)edu
703/993-8028
The Heartland Institute is a 29-year-old national nonprofit organization headquartered in Chicago, Illinois. Its mission is to discover, develop, and promote free-market solutions to social and economic problems. For more information, visit our Web site or call 312/377-4000.