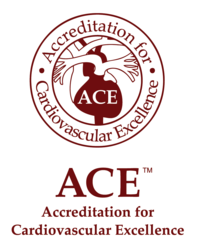 I think more and more cath labs will seek [ACE Accreditation] as a commitment and an investment. It really forces you to look at all angles of your program.

Jane Kiah, MS, RN
Baptist Cardiac & Vascular Institute, Miami, FL
Washington, DC (PRWEB) April 09, 2013
In the 2013 Spring SCAI Newsletter, The Baptist Health Network discusses their September, 2012 achievement of full accreditation by the Accreditation for Cardiovascular Excellence (ACE). In the SCAI article, Baptist states that there are multiple benefits that come with ACE accreditation. Jane Kiah, MS, RN, Director of Cardiac and Interventional Services for the Baptist Cardiac & Vascular Institute, in Miami, FL, reports that SCAI-QIT initiatives and ACE accreditation have resulted in significantly fewer payer denials.
There are other payoffs with ACE accreditation. As part of the ACE process, Marcus St. John, MD, FSCAI, was appointed Baptist physician champion for angio review. He developed and implemented a series of new protocols based on ACE and SCAI-QIT guidelines that created a supportive physician collaboration process for peer review. "We now choose a randomly selected number of cases every quarter for review," stated Dr. St John. "[Also] if actions deviate from the norm, cases come under review." Adds Ms. Kiah, "The physicians discuss clinical issues in an open format and learn from one another. The Tool Kit really helped me put that plan into place."
There are multiple additional benefits with ACE accreditation. The ACE process encourages systematic improvements in dictation, documentation and the creation of new auto-fill procedural forms. Dr. St John stated that missed details on documentation can be significant to support appropriate use, such as lesion type, TIMI flow or FFR measurements. A new tracking system and case-by-case review process resulted from a review of radiation policy. Contrast dosing has been lowered by as much as 20 CCs, to reduce nephropathy risk. "I think more and more cath labs will seek [ACE Accreditation] as a commitment and an investment," said Ms. Kiah. "It really forces you to look at all angles of your program."
Visit the ACE website for additional information and to schedule a complimentary one-hour consultation: http://www.cvexcel.org
About Accreditation for Cardiovascular Excellence
ACE, an independent organization sponsored by the Society for Cardiovascular Angiography and Interventions (SCAI) and the American College of Cardiology Foundation (ACCF), offers independent evaluation and monitoring of facilities that provide cardiovascular care. By reviewing facility and operator performance and comparing clinical decision-making to nationally accepted best practices, ACE peer review and accreditation services plays a critical role in continuous quality improvement programs. Learn more at http://www.cvexcel.org.