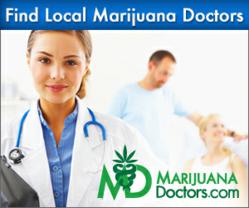 "By expanding into the Fresno region of California, we are continuing our marketing campaign to acquire the most reputable California canna-physicians in the industry. From SoCal to NoCal, we are spreading the MarijuanaDoctor's name." -John Nicolazzo
(PRWEB) April 10, 2013
Nationally recognized as a leader within their respective industry, MarijuanaDoctors.com serves as a search and booking platform that directly connects inquiring and current medical marijuana patients with a licensed and board-certified canna-physician located closest to their geographical area. A company that sets itself aside from the rest, MarijuanaDoctors has never strayed from a challenge to integrate a new physician's clinic into their reinforced clientele roster of reputable doctors. While it seems that many other competitors are barely getting by with minimal marketing efforts, MarijuanaDoctors continues to press on with an impressive marketing campaign directly targeting reputable and outstanding physicians who have become eligible to recommend marijuana within their respective state. By enabling patients to be provided with a service that is founded upon compassion and legitimacy, the company provides services to over 150,000 patients a year. Today, MarijuanaDoctors announces a new addition to their client base, and is absolutely thrilled to welcome such a great business to their compassionate family.
The most recent addition to the MarijuanaDoctor's client roster is a unique and professional health clinic called Valley 420 Evaluations, located in Fresno, California. Valley 420 Evaluations is legally-permitted and board-certified facility to provide a compassionate health service to Proposition 215 patients. These locations, as well as many other locations within the MarijuanaDoctors network are meant to serve as education points, where patients can inquire about the potential benefits of medical marijuana as an alternative treatment option. All locations within the network have passed background checks and are comprised of only the highest standing, as they conduct their operations within a discreet, confidential and professional manner.
Valley 420 Evaluations is a medical marijuana evaluation center that provides California medical marijuana patients in or around the Fresno area with the most legitimate services in alternative medicine. By being able to conduct some of the most thorough, analytic and efficient medical marijuana evaluations, certifications and recommendations, this clinic truly sets itself aside from the rest. A patient will come into this facility and go through an extensive medical marijuana evaluation in order to discuss and understand the pros and cons to using cannabis as a treatment option. Once a patient has been properly educated and possesses the correct knowledge necessary to move closer to a recommendation, Valley 420 Evaluations' licensed physician will analyze and take into thorough consideration a patient's past and present medical condition to figure out whether or not this is the right direction to go in. Aside from boasting a reputable physician who is more than capable of bringing patients one step closer to alleviating their pain, this location has a staff that is formulated of the most knowledgeable and personable individuals. Please note that the staff from this location will assist and address any questions or concerns in regards to medical marijuana and obtaining a California medical marijuana card.
Although this facility is located in Fresno, California, that does not stop them from spreading compassionate health care services well into the surrounding towns and cities of Hammond, Cincotta, Calwa, Granz, Goldleaf, Eshel, Cameo, Las Palmas and Sunnyside. With a clear vision of the professional services that are provided through this location, Proposition 215 patients are ensured they are taken care of with the best possible amenities. By representing an immense amount of compassion, legitimacy and sheer professionalism, Valley 420 Evaluations lives up to the standards that MarijuanaDoctors was founded upon. The two are a match made in heaven for the medical marijuana industry, and this recently formed partnership will hopefully spread word of the MarijuanaDoctor's name across the West Coast.