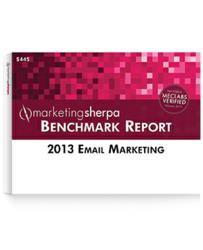 Though email marketing is a mature tactic, our report shows that marketers are still learning about it, and haven't fully capitalized upon its potential
Jacksonville, FL (PRWEB) April 10, 2013
MarketingSherpa's newly released 2013 Email Marketing Benchmark Report, sponsored by Vocus, defines the current state of email marketing. Through 209 easy-to-understand charts, with analyses compiled in ready-to-use slides, the report efficiently outlines email marketing tactics and strategies of marketers from more than 1,095 B2B and B2C organizations. It includes details such as:

The volume and types of email marketers are sending
Estimated return on investment
How email fits into marketing budgets
The challenges of integrating email with mobile
The report also reveals missed opportunities, for instance:
Fewer than 30% of marketers send post-purchase follow-up
Fewer than 15% send emails to re-engage
Fewer than 10% sent shopping cart abandonment reminders
Download a free excerpt here: http://www.meclabs.com/training/publications/benchmark-report/2013-email-marketing/overview
"Though email marketing is a mature tactic, our report shows that marketers are still learning about it, and haven't fully capitalized upon its potential," says lead author Brad Bortone, Senior Research Editor, MECLABS. "This report outlines where marketers are showing gains and where there's room for improvement, and also highlights ways to leverage this information to gain a competitive edge."
To purchase, please visit: https://www.meclabs.com/training/publications/benchmark-report/2013-email-marketing/order
Media Contact: Bethany Caudell, MECLABS, 1-800-517-5531
About MarketingSherpa
(follow us @marketingsherpa or visit http://www.marketingsherpa.com)
MarketingSherpa publishes case studies, Benchmark Reports, exclusive research, how-to instructional materials, and six content-specific newsletters for more than 237,000 content, email, inbound marketing, search, B2B and consumer marketing professionals each week. In its tenth year, MarketingSherpa has been praised by The Economist, Harvard Business School's Working Knowledge, and Entrepreneur.com. Along with MarketingExperiments and InTouch, MarketingSherpa is part of the MECLABS Group, which offers marketers practical research data and information, professional training and networking Summits.
About Vocus
Vocus (NASDAQ:VOCS) is a leading provider of cloud marketing software that helps businesses reach and influence buyers across social networks, online and through media. Vocus provides an integrated suite that combines social marketing, search marketing, email marketing and publicity into a comprehensive solution to help businesses attract, engage and retain customers. Vocus software is used by more than 120,000 organizations worldwide and is available in seven languages. Vocus is based in Beltsville, MD with offices in North America and Europe. For further information, please visit http://www.vocus.com or call 800-345-5572