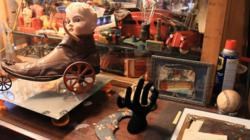 The story's subtitle - 'A creative genie, unbottled' - perhaps says it best.
Brandon, Minnesota (PRWEB) April 09, 2013
The camera takes us down stairs and into the studio of Kirk Williams, entering a world populated with colorful creatures, the clutter of work in various stages of completion scattered across every available surface. In the distant background stands the artist, working at his easel. Thus opens the newest story segment on Lakes Country Living, a half-hour television show airing on telecom cable networks across the Upper Midwest.
In this story segment, Williams' personality is revealed through an extensive interview. Whimsical background music enhances the fantastic nature of the artwork – and the artist's humorous style of conversation. "I'm not sure if we should call him a surrealist, a steam-punk fantasist, or what," adds Stephen Henning, producer and host of Lakes Country Living. "But Kirk has mastered several different artistic forms including sculpture, pastels, and assemblages. The story's subtitle - 'A Creative Genie, Unbottled' - perhaps says it best."
In another new episode, the camera gives a walk-through of Kaleidoscope Gallery, located in the artsy little town of New London. Viewers are introduced to three of the organizers who started the cooperative: a basket weaver, Janet Olney, and two potters, Craig Edwards and David Korsmo. As they describe the work of the other seven artists, the camera shows strolls through the gallery. "I wanted to whet the appetite for more, so we included 2-minute segments where the Janet, Craig and David talk about their own work," explains Henning. "Behind the gallery is a huge pottery studio, so we'll come back and do another story this summer, when they're using the wood-fired kiln out in the back yard."
Henning, himself an award-winning and widely recognized painter, is a passionate interviewer and host. He points out that the seed money to produce the first season came from a Minnesota Legacy Grant, with the objective to create 13 artist profiles. "My intention is to use video to take viewers behind the scenes, into the artist's studio – or other creative spaces – and visit directly with the creator. That could be a painter, a potter, or a poet," added Henning.
Since 2010, more than 50 stories about artists and the arts have been produced and aired on Lakes Country Living. Artists featured on the show have included wood sculptor Jay McDougall, poet Athena Kildegaard, concert pianist Rebecca Davis, rustic artist Dan Haataja, mosaic artist Annette Hochstein, and potter Roxann Sorenson. Several more artist profiles are already scheduled to air in the show's fourth season, beginning in the fall of 2013.
Lakes Country Living is a half-hour made-for-cable video magazine featuring stories of out-state Minnesota. Hosted by nationally acclaimed landscape painter Stephen Henning, the show's topics usually include the arts, agriculture, Main Street entrepreneurs, local history, natural resources and outdoor recreation. Particular attention is given to conveying local flavor. More information is available online at http://www.lakescountry.tv.