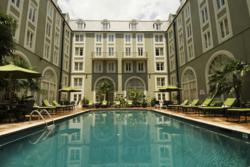 We look forward to leveraging LobbyFriend as a way to enhance and personalize the guest experience.
New Orleans, Louisiana (PRWEB) April 10, 2013
The New Orleans Hotel Collection has announced a working partnership with LobbyFriend at the iconic Bourbon Orleans Hotel of the Collection. Other hotels of the Collection, anticipated to join the network at a later date, are: the 102-room Hotel Mazarin, located on Bienville Street which recently completed a massive restoration and upgrade; the 64-room Hotel Le Marais, a stylishly chic and contemporary boutique property on Conti Street; and the 111-room Dauphine Orleans Hotel, a long-time local favorite known for its excellent service. All four hotels are located in New Orleans' most desirable district – the historic French Quarter. Each of these unique properties appeals to the world traveler seeking unique stays at independent hotels in remarkable destinations.
LobbyFriend is the first ever social network platform dedicated to the real-time needs of guests in their immediate location and vicinity. It provides a private temporary social network for hotels, enabling them to communicate with guests during their stay. Guests benefit from connecting online with other guests, either within one hotel or soon, across multiple hotels within a collection, to access a relevant social stream of information about what's happening within their hotel or vicinity.
"Our guests are tech-savvy and socially connected with their peers. LobbyFriend takes the social experience a step further by allowing our guests the opportunity to connect with each other. We look forward to leveraging LobbyFriend as a way to enhance and personalize the guest experience and facilitate incremental revenue for our outlets," said Craig Hulford, Area General Manager for the New Orleans Hotel Collection.
The hotels of the New Orleans Hotel Collection are the first hotels in New Orleans to adopt this new technology, and amongst the first in America. When a guest downloads the LobbyFriend™ app to their personal device, they are able to engage and privately network with other guests and the hotel, to discover where to go and what to do in the area, as well as benefit from exclusive deals and special offers. Hotels of the Collection are able to stay directly connected to their guests during their stay, via their personal mobile devices as well as via screens in public areas such as the lobby or bar, communicating a live social stream to engage and attract guests.
About LobbyFriend™
LobbyFriend™ is the first ever temporary social network for hotels, designed to connect the current guest to other fellow guests, the hotel staff, and to a live feed of what is happening in the hotel or city. Founded in 2011 by a group of frequent business travelers, frustrated with the lack of live and relevant information about what to do in a city and the challenge of finding fellow guests to network with, LobbyFriend Inc. is headquartered in Montreal, Canada, and is strategically led by its 3 founders, Jason Ayoub, Mohit Kumar, and Sonam Devgan.
About the New Orleans Hotel Collection
The New Orleans Hotel Collection is a group of seven splendidly original hotels in the New Orleans metropolitan region owned by local investors. Comprised of the Bourbon Orleans, Dauphine Orleans, Hotel Mazarin, Wyndham Riverfront, Audubon Cottages, Crowne Plaza New Orleans Airport and Hotel Le Marais, these are boutique and small upscale meeting hotels in prime locations throughout the city. For more information, please visit: http://www.neworleanshotelcollection.com.