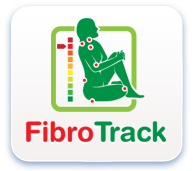 Fibromyalgia patients are often so sick they find the effort required to determine what treatments will work best too complicated. FibroTrack is designed specifically to make this process simple, easy and more effective.
Cumming, GA (PRWEB) April 09, 2013
Treating fibromyalgia is notoriously difficult with no single treatment option available that is proven effective for all patients. Though research has demonstrated that many treatment options offer benefits to some patients, nothing has been proven to work for everyone. This reality leads many patients to frustration and confusion as they may wander randomly from treatment to treatment without achieving positive results.
Doctors and health care professionals urge fibromyalgia patients to embrace the concept of self-management with a focus on working to determine what combination of treatment options will prove effective. Experts suggest an ongoing process of trial and error testing for different treatments in an effort to determine what will work best. Combinations of treatments have been demonstrated as most effective and there are literally thousands of possibly effective treatment combinations available.
Fibromyalgia patients struggling with extreme and persistent pain, overwhelming fatigue, headaches, bowel problems and other symptoms often lack the energy and focus required to make sense of what they are experiencing. Attempting to figure out a complex medical condition like fibromyalgia is made incredibly difficult for an individual suffering such extreme symptoms.
FibroTrack is a new online application with companion mobile applications for the iPhone and Android devices that is designed specifically to help fibromyalgia patients better manage their condition. The FibroTrack system provides a structured, step by step process for patients to follow. This ongoing process leverages technology to better enable detailed symptom analysis, treatment research, care team coordination and positive social support.
"Fibromyalgia patients are too often so sick they find the effort required to try and determine what treatments will work best for them too complicated to follow through with. FibroTrack is a tool designed specifically to make this process simple, easy and far more effective", says Terry Springer, designer of the FibroTrack system.
FibroTrack enables patients to track symptoms, causal factors and treatment actions using real time data collection technology combined with deep analysis tools. Through the use of interactive charts and graphs FibroTrack provides fibromyalgia patients with pictures to define how their condition progresses and responds to different treatment initiatives. The reliance on memory and guesswork is removed from the treatment process.
FibroTrack promotes a "Fight Smart" process. Patients leverage the power of real time data collection combined with comprehensive treatment research information and care team coordination tools to achieve more effective long term care results.