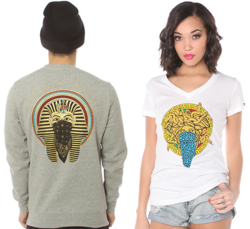 Crooks and Castles is one of the biggest names in streetwear
Boston, MA (PRWEB) April 09, 2013
Karmaloop.com, the leading web retailer for urban fashion and streetwear, today unveiled the latest looks from Crooks and Castles that are now available on the Karmaloop.com website.
"Crooks and Castles is one of the biggest names in streetwear," said Greg Selkoe, Karmaloop's founder and president. "With Crooks, it's all about the villainous lifestyle, to not let anything get in the way. That's how this brand got so big so fast."
Founded in 2002, Crooks and Castles is renowned for styles that celebrate street villains in bold graphic prints. The Spring '13 men's collection features pieces like The Leopard Air Gun Sweatshirts in Black, Red or Gray -- a crewneck sweatshirt with a front graphic print of a pair of leopard-skin gloves in an air gun gesture. The latest looks also include tanks and hoodies with a "Cocaine and Caviar" graphic on the front, and the Pharaoh Sweatshirt that features a graphic with an Egyptian Pharaoh wearing a bandana mask.
"When you think of Crooks and Castles, a lot of people think of great streetwear for men," said Selkoe. "But C&C is great for women too, and Karmaloop is proud to carry a large collection of Crooks and Castles looks for women."
The 2013 collection for women includes pieces like The Endangered Crewneck in Rain Camo, featuring an allover camo print and script logo graphic. Karmaloop also carries the No Love Mesh Crop Tank in Pale Pink or Mint, featuring a mesh back and a graphic logo print on the front, and the Bandusa Vneck Tee in White, a v-neck t-shirt with a graphic of Medusa wearing a criminal's bandana.
Fans of Crooks and Castles can view the Spring 2013 collection of Crooks & Castles clothing at Karmaloop.com.
About Karmaloop.com
Karmaloop.com is the leading online retailer for global urban fashion and streetwear, with more than $130 million in annual sales. With a broad range of labels that include everything from Vans Footwear to Jeffrey Campbell shoes and KR3W gear to RVCA clothing to Free People dresses, Karmaloop receives more than 4.5 million unique visitors from 40 countries each month, and retails more than 500 brands designed for the "Verge Culture" -- a multicultural demographic that is 18 to 34 years-old and often referred to as the first generation that grew up with the Internet. Founded in 2000, the Karmaloop family of websites today includes the internet television station KarmaloopTV, the women's fashion site MissKL, the menswear boutique Boylston Trading Company, the flash-sale site PLNDR, the online skateboard retailer Brick Harbor, and the independent marketplace Kazbah.