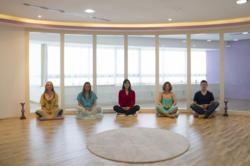 Pune, India (PRWEB) April 17, 2013
When it came time to branch out globally, Dubai-based Illuminations holistic center didn't even think twice about opening its doors in Pune, India. The ninth largest city in India and home to many spiritual centers and universities, Pune was the natural choice when it came to expanding the well being center.
The center will be located in the heart of Pune's Koregaon Park, a prestigious area of this vibrant city. This area used to be primarily residential and is growing into a bustling commercial center.
After the success of the Dubai branch, Illuminations aims to replicate the Illuminations customer experience in Pune. The center will hold daily meditations, empowerment workshops, holistic training programs and private consultations.
Illuminations is partnering up with renowned Pune-based clinical hypnotherapist and psychotherapist, Irina Khanna, who will be managing the everyday activities of the center and will be contributing her expertise and experience through facilitating workshops, meditations, and training programs.
About Irina:
Dr. Irina Khanna is a well-known hypnotherapist, psychotherapist, and trans-generational healer focusing on resolved inherited family programs through constellation therapy. She graduated with a degree in dentistry and began her career after experiencing life-changing results from resolving unconscious patterns within her. This led her to study further on how our mind and energy levels influence areas of our life that appear unknown to our conscious understanding.
When an individual is able to tap into these hidden areas and resolve them through powerful healing techniques, what was once limiting their lives is miraculously released. Her goal is to spread this awareness and encourage individuals to explore their power from within. She is originally from Georgia in Eastern Europe but has lived in India for the last 13 years running a successful practice.