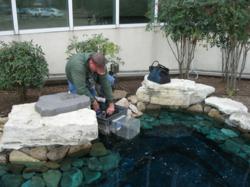 Tulsa, Okla. (PRWEB) April 08, 2013
Cherokee CRC was recently awarded a contract to provide facility services and security at the U.S. Environmental Protection Agency's Robert S. Kerr Environmental Research Center in Ada, Okla.
"We're glad that our companies can make an impact here at home," said Cherokee Nation Principal Chief Bill John Baker. "Contracts like these allow us to assist agencies working in our area and, more importantly, keep our workers here in Oklahoma. It's a win-win for everyone."
The contract calls for operations and maintenance of the research center, which houses the Ground Water and Ecosystem Restoration Division of the National Risk Management Research Laboratory. The facility is the EPA's first carbon-neutral laboratory in the country and focuses on soil and subsurface environments. Its mission is to study the transport and transformation of contaminants in soil and groundwater generated by municipal, agricultural and industrial wastes.
"This contract is significant on many levels," said Cheryl Cohenour, president of Cherokee CRC. "It's our first service contract within the EPA, and we value the opportunity to provide these services and employment opportunities in Ada."
Cherokee CRC, LLC, a subsidiary of Cherokee Nation Businesses, offers services in consulting and engineering, predominately in the areas of aerospace, construction, environmental and professional services.
The company is certified by the Small Business Administration as a Tribal 8(a), Small Disadvantaged and HUBZone business.