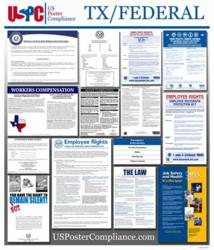 With this 'Green' poster, we now offer another advantage to business owners.
Corning, NY (PRWEB) April 09, 2013
US Poster Compliance in Upstate New York recently announced an environmentally-friendly version of their State and Federal Labor Law Posters. The "Green Paper Posters," as they're called on the business's website, are also cheaper than the other products they offer.
According to the company, the new line of posters has the same labor law compliant documents as all their other posters, but there are several environmentally-friendly factors used in creating these "Green" products:

the Green Paper Posters do not use plastic laminate
these are printed with recycled ink cartridges
shipping materials are minimized by the ability to fold these posters instead of rolling them
Labor Laws across all 50 states and from the Federal Department of Labor require certain documents to be posted and available for employees. "Organizations like FMLA and OSHA provide these documents and US Poster Compliance collects and organizes the information, printing it all together in a well-designed Labor Law Poster," says business-owner Brandon Eaton. "Many businesses order these posters to keep their break-rooms free from clutter and to save the time and hassel it takes to find and post all of the required documents. With this 'Green' poster, we now offer another advantage to business owners by giving them the opportunity to select an environmentally-friendly option."
For more information or to purchase a Green Paper Poster from US Poster Compliance, visit http://www.uspostercompliance.com.
US Poster Compliance is owned and operated in the Finger Lakes Region of New York State by Sean Lukasik and Brandon Eaton. The young entrepreneurs seek to support and encourage other small businesses by delivering a well-designed product and helpful information on their website.