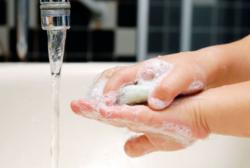 Austin, TX (PRWEB) April 09, 2013
Norovirus sends more than one million children under age five to the doctor each year. Texas Pediatrician Dr. Marta Katalenas, advises parents to establish a regular routine of sanitary precautions that can dramatically reduce the risk of infection from norovirus.
According to Dr. Katalenas, viral infections are more difficult to treat than bacterial ones; antibiotics don't treat viruses and there are few antivirals that can contain these infections. "When treating infections produced by Norovirus, the goal is to treat the symptoms and prevent dehydration. People with chronic health problems and children are two sectors of the population more at risk for developing dehydration. The focus, then, is on prevention" says Dr. Katalenas.
According to the Centers for Disease Control and Prevention (CDC), norovirus is the leading cause of intestinal and stomach illness in children. Norovirus, often called the stomach flu or thought to be food poisoning, infected more than one million children in 2009 and 2010.
The CDC reports that there are more than 21 million cases of norovirus virus annually, including 70,000 hospitalizations and 800 deaths. The same study shows that less than 20 percent were the result of contaminated food and more than 50 percent were passed from person to person.
To combat norovirus, Dr. Katalenas recommends that parents educate their children about basic sanitation and they take routine precautions at home:
1. Wash your hands. Children and parents should wash their hands often, especially after using the bathroom, changing diapers, or handling food.
2. Don't care for others when you are sick. If you have the flu or an illness, don't prepare food or care for others for at least two days after you recover. Stay home from work or school, and don't send children to play with other children.
3. Disinfect contaminated surfaces. Be sure to use a disinfectant when cleaning up areas soiled by vomiting or diarrhea, as well as countertops and common surface areas. The Environmental Protection Agency recommends using 5-25 tablespoons of bleach per gallon of water, or another registered disinfectant.
4. Wash laundry thoroughly. Be sure to wash dirty clothes thoroughly using maximum washing and drying cycle times, and use rubber gloves when handling dirty laundry and wash your hands afterward.
Dr. Katalenas insists that she doesn't have the answer to killing all the micro-organisms around us because that task is as impossible as unnecessary. So how can parents prevent contact with dangerous viruses?
Dr. Katalenas says "The most effective way to prevent viruses remains routine and meticulous hand washing. Making it a habit is a must for those of us in constant contact with people"
She also says that the rest is up to our own individual immune system. "I can never say this enough: good nutrition will make your immune system stronger". In her book, The Step Up Diet... The Quality, Quantity, and Timing Solution to Childhood Obesity, Dr. Katalenas outlines the steps we can take to make eating healthy a part of our daily routine and help keep our immune systems working to fight harmful viruses we encounter in daily life.
About Dr. Marta Katalenas
Dr. Marta Katalenas is a pediatrician and owner of The Pediatric Center of Round Rock, Texas, and author of The Step Up Diet: From Scratch... The Quality, Quantity, and Timing Solution to Childhood Obesity. Her practice offers a nutrition management program that helps families make the lifestyle changes necessary to promote and maintain good health. Dr. Katalenas is a frequent guest on local television shows and is media resource on childhood obesity and pediatric health issues.