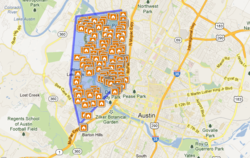 We've made it easier than ever before for customers to 'zero-in' on their preferred location.
Austin, TX (PRWEB) April 09, 2013
The newest version of Reilly Realtors' website: AustinHomeListings.com, promises many exciting new upgrades- including searching by school district/zip code/MLS, more property details and advanced search options/parameters.
One of the most exciting new features is the highly customizable polygon search tool. The new tool allows users to draw a polygon of whatever shape and size they like on a map that displays virtually all available Austin homes. Once the user finishes drawing the polygon, the tool then rapidly calculates which houses are included within that polygon and then updates the map to show only homes in that area. This powerful tool is on the cutting edge of real estate technology and is one of the first of such tools that is available in the Austin area.
As a result, Reilly Realtors new website and polygon map tool have certainly garnered the attention of the press upon their release. For example, Yahoo! News recently distributed the latest press release concerning Reilly Realtors new site, as seen here. But Yahoo! News wasn't the only news source to pick up the story on the brokerage's newest website. Over one hundred various news stations, including KXXV and TMC Net, picked up the story and distributed it to faithful readers.
This powerful new polygon search technology offers great potential and is very exciting for a variety of customers. Because the polygon tool offers a way to quickly and easily search for homes in a precise geographic region, it will be particularly useful for those that are new to Austin and are not familiar with the names of the smaller suburbs of Austin. The tool will also be useful for those who have lived in Austin for years and are familiar with the areas that they like to spend their time in. This will allow all users to design highly customized maps based on the most important factor of real estate: location. Then once these searches are built, they can be saved and accessed later at the user's convenience.
Michael Reilly, managing broker of Reilly Realtors, added the tool to his website due to his focus on serving the interests of the site's many users. He knew from the beginning of the website redesign that having a polygon map search tool was a must.
Reilly comments, "Home buyers put a premium on the location of their house- and for good reason. The location of your new home will determine much of your quality of life over the next few years. To make sure our customers find the right home in the right location, we've made it easier than ever before for customers to 'zero-in' on their preferred location."
In addition to polygon searches, Reilly Realtors has also added another new tool that will send users email alerts with automatic updates for new Austin area home listings. Users can submit their preferences of number of bedrooms, bathrooms, price range and more. Then all they have to do is wait for a new home to be listed and they will be notified immediately via email. It's a handy tool that offers users peace of mind by keeping them in the know about new listings without having to check in every hour to make sure they didn't miss one.
The polygon search tool and the new home listings alert are just a few of the many innovative features that Reilly Realtors offers to their customers. To begin exploring the new tools and upgrades, visit their site today at AustinHomeListings.com.
About Reilly Realtors
Reilly Realtors, LLC was formed in 2006 by Michael and Shae Reilly, and focuses primarily on residential home sales in Austin and the surrounding areas. The brokerage is made up of 30 top producing agents with an average of 5 years experience and is on track to close $75,000,000 in residential sales for 2013. Reilly REALTORS operates the extremely popular website AustinHomeListings.com, which allows the public to search virtually all Austin homes for sale with an easy to use map-based interface using data from the Austin MLS. For more information about Reilly Realtors, call 512-600-1800 or visit us online.
Michael Reilly, Owner
Reilly Realtors
512-600-1800