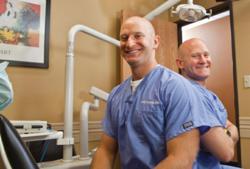 Austin, Texas (PRWEB) April 16, 2013
Every parent should know that their child's oral healthcare routine should consist of regular dental visits, daily teeth brushing, flossing and a healthy diet. But moms and dads may not be aware of the damage being done to teeth by beverages like juices, sodas and sports drinks.
"When tooth enamel is dissolved or worn away after being exposed to the acids found in those drinks, it can lead to a type of tooth decay called dental erosion," said Dr. Chad Denman, Austin dentist / Round Rock dentist and owner of Family Tree Dental Group. "And once a person loses the enamel on their teeth, they can't get that vitally protective layer back."
Here are a few tips for parents to help prevent dental erosion in their child's mouth:

Serve milk or plain water whenever possible. The calcium in milk helps strengthen teeth.
Use a toothbrush with a soft bristle to reduce the abrasive forces interacting with teeth.
If sodas and fruit juices are a must, follow them with a few sips of water to reduce the acid content in the mouth.
Serve fruit juice that is diluted with water to bring down the acid content.
Don't give a baby or young child fruit juice in their sippy cup, especially at night to help them fall to sleep. The extended exposure can have devastating effects on the teeth.
Don't brush teeth immediately after eating or drinking. Wait 30 minutes so saliva can neutralize the acid and reverse the softening of the teeth. Otherwise, brushing may do more harm than good since the force may remove the softened enamel.
Family Tree Dental Group was founded in 2011 by Austin dentists - Round Rock dentists and identical twin brothers Drs. Chad and Shelby Denman to provide high quality dental care in a state-of-the-art environment with careful attention to detail and deep personal respect. Family Tree Dental Group helps maintain the oral health of patients of all ages and cares for all dental needs under one roof. For more information, call (512) 458-5999 in Austin, (512) 310-3999 in Round Rock, or visit http://www.FamilyTreeDentalGroup.com.