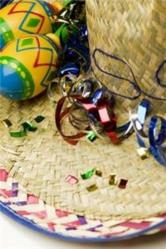 Festivals across the country celebrate with brightly colored decorations, live music, dancing, and authentic, Mexican food, which makes this holiday a great event to celebrate for every age and nationality.
South Whitley, IN (PRWEB) April 09, 2013
Just because May 5 is on a Sunday this year doesn't mean cities aren't making a party out of Cinco de Mayo. This growing annual event is a time many Americans use to celebrate the cultures and experiences of Americans from Mexican ancestries. Shindigz, a leading, national party supplies company, quickly sells their Cinco de Mayo supplies, tableware, and party favors this time of year.
"Cinco de Mayo has become an extremely fun and broadly celebrated holiday for Americans," observes Keith Bansemer, Director of Sales & Marketing at Shindigz. "Festivals across the country celebrate with brightly colored decorations, live music, dancing, and authentic, Mexican food, which makes this holiday a great event to celebrate for every age and nationality."
Cinco de Mayo, or the 5th of May, commemorates Mexico's victory over the French at The Battle of Puebla in 1862. It's been cause for celebration of the Mexican culture ever since, prompting some exciting and well-attended Cinco de Mayo festivals across the U.S.
Reno, Nevada – Cinco de Mayo Festival 2013
Known as Northern Nevada's "largest Latino heritage celebration", this Cinco de Mayo Festival goes on for two full days and is loaded with music, dancing, sports and games. More than 100 vendors will line the parking lot of the Grand Sierra Resort and Casino, while festival attendees can get their faces painted, enjoy some Mexican food and take in the entertainment. Even some Mexican dancing horses are scheduled to perform. Admission is $5 and is free for children under 12 and seniors.
Phoenix, Arizona - Cinco de Mayo Phoenix Festival
Over the years, more than 2 million people have attended this huge Phoenix celebration, which also raises money for charity. The party starts May 4 and lasts until 10 p.m. on May 5. Vendors, food, drinks, and musical groups like the Texas Tornados, The Latin Breed, and Ozomatli make this festival an even larger gathering in 2013. Event chairs have a goal of raising $100,000 at this year's festival, which will go towards Arvizu Scholarships, providing financial aid to Hispanic students.
Portland, Oregon – 29th Annual Cinco de Mayo Fiesta
For three days, the people of Portland will celebrate Cinco de Mayo at Waterfront Park. Hosted by the Portland Guadalajara Sister City Association, the festival promotes Latino culture and arts. Two stages will showcase acts like Mexican ballet dancers and local bands. Those who attend the Fiesta can also ride rides at the carnival, check out the live butterfly exhibit, watch fireworks, dance in a Flash Mob, and more. The event was so successful in 2012 that it was awarded the "Best Cultural & Heritage Festival in the State of Oregon."
San Francisco, California – Cinco de Mayo Festival
From 10 a.m. to 6 p.m., San Francisco comes to life with Hispanic culture. From a Zumba-thon to live performances by San Francisco Bay Area artists, thousands make it out for this event. The festival is held at Dolores Park where people can celebrate by watching mariachis, dancers, and salsa ensembles, as well as doing a little dancing of their own. Although the festival falls on Saturday, May 4, there's no shortage of celebrating.
Washington, DC – The National Cinco de Mayo Festival
Our nation's capital is proud to celebrate the rich history and culture of Latin Americans. This annual celebration features activities for children, food, games, live music and dance, and takes place on the National Mall where the event is free and open to all. This year's headliner is the Maru Montero Dance Company, which performs Mexican folk, cha-cha, mambo, salsa, tango and other Latin American dances.
About Shindigz
Shindigz "makes life more fun" for 23 million events through the manufacture and sale of personalized party supplies. It ships products from its facilities in South Whitley, Indiana across the United States and around the world to 59 countries. With more than 36,000 products, it's been providing customers with complete party solutions since 1926. For Cinco de Mayo decorations and favors, visit Shindigz.com.