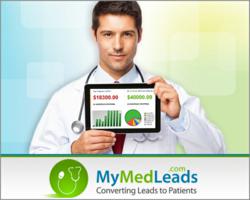 Austin, TX (PRWEB) April 10, 2013
MyMedLeads will be exhibiting April 13 - 15 at the Aesthetic Meeting 2013 in New York (booth #425). The trade show, which is put on by the American Society for Aesthetic Plastic Surgery and the Aesthetic Surgery Education and Research Foundation, will be attended by thousands of plastic surgeons, aesthetic professionals and other industry leaders.
MyMedLeads is a unique pre-patient relationship and sales workflow tool that allows aesthetic practices to capture, track and market to 100% of leads. The system can capture leads from any source using call tracking and easy web form integration.
The software meets the needs of busy clinics that do not have the time to track and measure the effectiveness of their marketing or lack the infrastructure to cultivate relationships with potential patients. MyMedLeads creates an organized repository where leads are automatically delivered, and provides staff with a systemized pathway for managing each lead until they schedule a consultation. Highly automated features like text message reminders, automated email campaigns and daily follow-up lists make increasing patient conversions a straightforward, manageable process.
The MyMedLeads team will be highlighting the software's newest features at booth #425, including practice management software integration. This functionality enables two-way, real-time data synchronization so that leads can be seamlessly transferred to PM software once they schedule. Full feature walkthroughs will also be available to demonstrate added value of features like staff performance reports, detailed marketing ROI reports and a number of other productivity features.
To set up a live trade show demonstration of MyMedLeads lead management system in New York, please call (866) 858-6785.