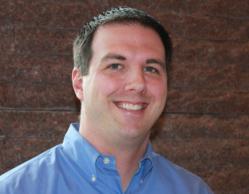 "We are transitioning to an in-house software engineering department, and we needed an experienced, high-caliber technology professional to build our team around. Jerry is that guy."
Atlanta, GA (PRWEB) April 09, 2013
AchieveIt, a leading provider of execution management and strategic planning software, announced today that Jerry Pattenaude has been named the company's chief engineer. Pattenaude will serve as lead developer for AchieveIt's cloud-based software applications and will lead the company's transition from an outsourced engineering department to an in-house staff.
Pattenaude has an extensive background in both software engineering and development, including stints at Northrop Gunman Sperry Marine, The Boeing Company, and JDA Software (formerly RedPrarie), where he most recently spent six years as a senior software architect on the company's workforce management product. After graduating from the University of Georgia with a degree in computer science, Pattenaude went on to complete his master's in software engineering from Carnegie Mellon University.
"Jerry is a strategically important addition to our team," said Scott Regan, founder and chief execution officer of AchieveIt. "We are transitioning to an in-house software engineering department, and we needed an experienced, high-caliber technology professional to build our team around. Jerry is that guy."
AchieveIt has effectively outsourced its engineering team since the company's founding in 2010. With the company's accelerated growth over the last six months, coupled with an aggressive technology development strategy, the company felt that an in-house team would provide product development flexibility while reducing the risk of critical I.T. knowledge loss," Regan said. The company has also recently hired a business analyst and is anticipating adding four additional engineering staff in ensuing months.
About AchieveIt
Serving more than 250 clients in 41 states and South America, AchieveIt helps organizations transform vision and goals into tangible business results. Through its suite of cloud-based strategy development and execution management applications, AchieveIt accelerates transformation through enhanced accountability, transparency and execution. The company provides an innovative set of online tools to develop, monitor, and implement strategic and operational plans, performance and quality improvement projects, and leadership and management programs. A national thought-leader on strategy development and execution management, AchieveIt offers free webinars and white papers on its website at AchieveIt.com.