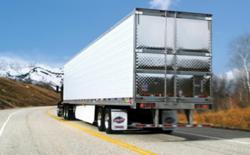 Keeping our trucking company local is very important to me and the larger facility offers room for growth
Port Orchard, WA (PRWEB) April 09, 2013
A Refrigerated Trucking and Flatbed Trucking company announced it has moved into a larger facility that is more than double in size from its previous trucking location. The trucking company has continuously experienced growth since its inception in 2007 and has expanded in all of its 6 years in trucking. The new office is also located in Port Orchard, WA. "Keeping our trucking company local is very important to me and the larger facility offers room for growth" says owner Brian Schuster. He continued saying "I grew up in a small town and have always respected the benefit of being in a small supportive community where we know and support our neighbors first hand."
The year 2012 brought a lot of changes within the trucking industry; everything from the (HOS) Hours of Service battle with the FMCSA (Federal Motor Carrier Safety Administration) to surges in fuel prices just to name a few. "Other than the constant changing of the FMCSA, explaining the increase in transportation costs to our customers can be challenging. Take our services in Refrigerated Trucking and compare it to our services in Flatbed Trucking. When running the Reefer unit (refrigerated trailer) we pay for fuel to run the generator in addition to the tractor itself. The generator maintains a temperature controlled environment for the products we are hauling based on the criteria of the customer. This gets even more expensive when we have to run the refrigerated trailer at a constant freezing temperature or below. Either way this requires more fuel. When outside temperatures reach 90+ degrees, it takes a lot more fuel to keep the products refrigerated and more so when frozen. When you compare this to our services in Flatbed Trucking there is little debating the lesser amounts of consumed fuel. There is generally a lot wind drag when hauling flatbed freight when compared to refrigerated freight. Some have said these two trucking services are similar in fuel consumption but I can tell you our costs for moving as refrigerated trucking costs us more than our services in flatbed trucking" says Mr. Schuster.
There are many Refrigerated Carriers out there that claim they can perform quality refrigerated trucking services. The fact is that Refrigerated Trucking Companies have had to recently make changes in order to legally run as refrigerated trucking companies California. The new law effective January 1, 2013 requires that California Trucking Companies as well as all trucking companies transporting any freight that is considered to be perishable goods on California highways and railways to only dispatch TRU's or TRU gen sets that comply with the TRU Regulations in-use performance standards. Trucking companies are in demand more than ever and West Coast Carriers has found its niche in the trucking industry by offering refrigerated trucking as one of its many services to its customers. Through word of mouth and a solid on time carrier performance rating, West Coast Carriers has built its reputation as one of the key refrigerated freight carriers in refrigerated trucking.
With approximately 3.5 million truckers having a CDL (Commercial Drivers License) driving job in the United States, West Coast Carriers has positioned itself as one of the leaders in flatbed trucking. "Communication with our customers is the key to our success in trucking. We focus our efforts on the specifics of each customer's individual need to transport their freight safely and deliver it on time. The trucking industry is constantly evolving and it's important that we keep ourselves informed of its changes. Fuel prices, seasonal freight and the demand for a flatbed truck are always going to be things that affect all trucking companies" says Mr. Schuster. West Coast Carriers offers both (FTL) full truckload and (LTL) less than load truckload services in its division for flatbed. The growing demand from companies seeking a knowledgeable and experienced flatbed trucking company has enabled West Coast Carriers to consistently grow its trucking company.
About West Coast Carriers
Established in 2007, West Coast Carriers set their core focus to offer competitive transportation services to all customers. Their slogan "Rigged for Service" was founded on the concept of being able to support the trucking services they offer on a daily basis. Their ability to continually keep their customers freight delivering at an impressive on time rate of 95% is what has their customers buzzing. To see this trucking company in more detail you can view them at http://www.westcoastcarriers.net or call them at 360-876-5568.