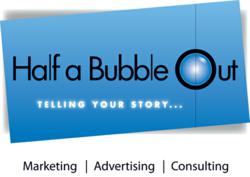 We believe in the importance of community, and part of that means supporting local organizations
Chico, California (PRWEB) April 10, 2013
Half a Bubble Out Marketing is pleased to be a sponsor of the 5th Annual Walk 4 Water Event held on April 6, 2013. The event is a fundraiser that raises money for Bridging the Gap, an organization that seeks to provide clean water in developing countries.
Half a Bubble Out donated its creative skills to the event, designing the newspaper advertisements and the radio commercial. This is the third year the marketing agency has sponsored the event. Although Half a Bubble Out is devoting more of its focus to small business internet marketing services, it still provides traditional marketing services.
"At Half a Bubble Out we believe in the importance of community, and part of that means supporting local organizations, as well as extending our reach out into the world through those local organizations," said Michael K Redman, CEO at Half a Bubble Out. "The Bridging the Gap Walk 4 Water event does exactly that."
According to Water.org, a child dies from a water related disease every 21 seconds. At the Walk 4 Water event participants walk either a 2K or 5K while carrying their own buckets of water, just as residents in developing countries would do. There are educational stations along the way that teach about the need for clean water globally, as well as water conservation.
All proceeds of the event support global water projects. The money raised last year was directed specifically toward water projects in Ethiopia and 1,129 Africans received clean water for life.
About Half a Bubble Out
Half a Bubble Out is a 21st Century Marketing and Advertising Agency that helps small businesses increase profits by strategically telling their story in a creative and compelling way. Since 2002, Half a Bubble Out has been helping small businesses achieve their potential in a holistic and sustainable way, helping them serve their current customers and build business with new customers, while allowing people to thrive, contribute to community and achieve profitability. Half a Bubble Out serves its clients in the role of internet marketing consultant as well as traditional marketing consultant, and designs and implements just about every form of marketing or advertising collateral that companies need to be successful.