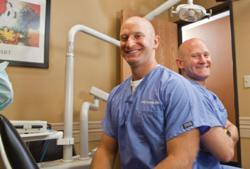 Austin, TX (PRWEB) April 23, 2013
Although patients hope their visits to the dentist consist only of a cleaning and perhaps--at worst--a simple filling, dental healthcare professionals face dozens of oral health problems on a daily basis that range from cosmetic to life-threatening.
"On top of being medical professionals, dentists are often called on to be educators, therapists and life coaches. We advise on diets, give recommendations for daily dental care, pull teeth, place dental implants, create dentures and mouth guards, repair fractured teeth, perform corrective surgeries, treat gum disease, and so much more," said Dr. Chad Denman, Austin dentist / Round Rock dentist and owner of Family Tree Dental Group. "If there's a dental-related problem, I've seen it. Some are more common than others, but rest assured that your dental professional has been trained to face them all."
The dentists at Family Tree Dental Group compiled a list of the top ten dental-related problems that are seen in their offices. With one being the most common and ten being the least, here are the top ten dental issues:
1. Cracked or broken teeth
2. Puffy or bleeding gums
3. Tooth sensitivity and pain
4. Crowded and/or crooked teeth
5. Discolored teeth
6. Shifting teeth
7. Missing teeth
8. Bad breath
9. Receding gums
10. Snoring and sleep apnea
Family Tree Dental Group was founded in 2011 by Austin dentists - Round Rock dentists and identical twin brothers Drs. Chad and Shelby Denman to provide high quality dental care in a state-of-the-art environment with careful attention to detail and deep personal respect. Family Tree Dental Group helps maintain the oral health of patients of all ages and cares for all dental needs under one roof. For more information, call 512-458-5999 in Austin, 512-310-3999 in Round Rock, or visit http://www.FamilyTreeDentalGroup.com.