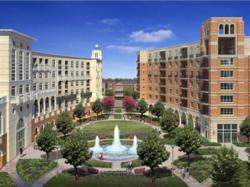 Stephanie Moore Hager manages quite remarkably to surpass herself on each new project's design.
Dallas, Texas (PRWEB) April 09, 2013
Notable interior design firm, Moore Design Group, is embarking on an impressive enterprise with Martin Fein Interests, Ltd., one of Houston's premier multifamily development firms. In an unprecedented effort, three projects will be built simultaneously on 10-acres of prime real estate inside the 610 Loop, merging three types of high-end multifamily products on a single high-density urban site. Vertical construction at the West Alabama and Las Palmas site began last month and is scheduled to be available for occupancy in fall of 2014.
An industry leader in designing multifamily communities, Moore Design Group will create distinct designs for each of the projects, which have different price points and target residents. The projects will all have a Mediterranean and European design style and will overlook the one-acre Willowick Park in the center of the development.
"Stephanie's inspired creativity makes her a vital member of our design and planning team," Martin Fein, President of Martin Fein Interests, said. "She manages quite remarkably to surpass herself on each new project's design. It is always a pleasure to work with her and her team."
Olympia at Willowick Park will be a189-unit structure situated over a two-story garage and will feature one-, two- and three-bedroom floor plans averaging 1,463 square feet. The amenity-rich property evokes a sense of community among residents who appreciate classic modern form and understated, refined beauty. Olympia's dynamic amenities include a concierge lobby; two executive boardrooms; a comfortable and elegant premium business center; a full catering kitchen; a spa with two treatment rooms and a full-service salon and Beauty Bar. To top it off, an 8th floor wine bar with a relaxed interior lounge, fireplace and rooftop terrace boasts panoramic city views so residents will never lack for cultural experience.
Appealing to what Fein calls "trend setters," Aria at Willowick Park consists of 325 units averaging 862 square feet over a two-level structured parking garage. Moore Design Group will create the designs for more than 8,000 square feet of amenity space, including a clubroom with a latte lounge, a library, a sport and game lounge and an executive boardroom. A concierge lobby will offer gracious lounge seating and a focal water feature wall. The project also features a spa and fitness studio with pilates, yoga and spin class accommodations.
The Townhomes at Willowick Park is a 38-unit rental townhome development with three-bedroom floor plans averaging 2,350 square feet and offers a unique product. "There is no comparison inside the Loop for Class-A, professionally managed rental townhomes," Jason Schlanger, Vice President of Development for Martin Fein, said.
Although located among inner-loop developments that are heavily trafficked and have an urban feel, the Willowick projects have a quiet residential character. "We are resetting the residents' minds as soon as they enter the space," Stephanie Moore Hager, owner and principle of Moore Design Group said. "We have created the initial event where the resident feels relief and a 'sense of arrival' upon entering Willowick."
In the middle of Houston's thriving multifamily market, Moore Design Group creates imaginative designs with the sophisticated stylishness expected in a high-end residential property. With more than 20 years of experience in multifamily design, the team's ability to create aesthetic designs with an elegant balance of energy, drama and comfort contribute to the success of properties like Willowick.
_________________________________________________________________________________
Established in 1991, Dallas-based Moore Design Group has earned a reputation as the leading designer of multifamily living communities in the United States. Lists of projects, media coverage, awards, team bios, photo galleries and more are available at mooredesigngroup.net.